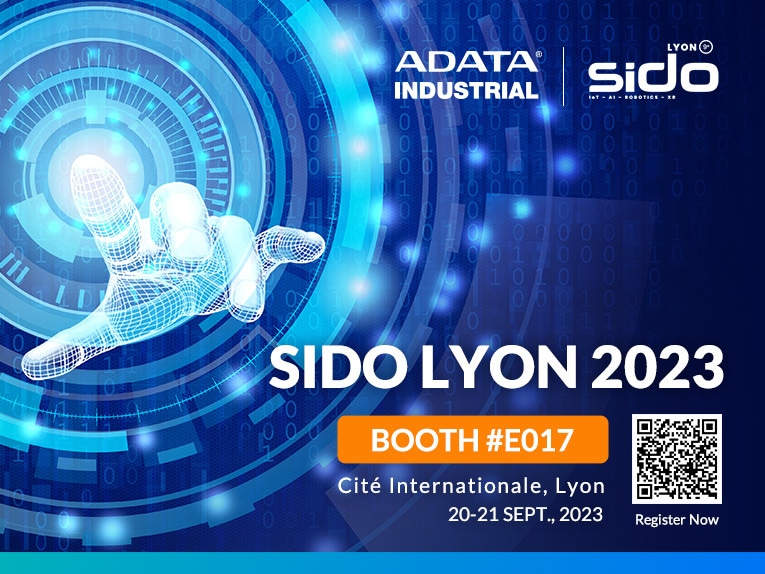 #

Trade Shows & Events
ADATA Industrial Showcases Expanded AI Application Capabilities at SIDO Lyon
Event for IoT, AI, robotics and XR
Taipei, Taiwan – September 7, 2023 – ADATA Technology Co., Ltd., the world's leading brand for industrial-grade embedded storage, announced that ADATA Industrial, its industrial-grade embedded storage brand, will participate in SIDO Lyon 2023, the leading European solutions and technologies event for IoT, AI, robotics and XR from September 20 to 21. ADATA Industrial's primary emphasis will be on AI applications, highlighting the latest generation of its DDR5 5600 series industrial-grade memory and a range of 112-layer (BiCS5) storage products. The company will also showcase the latest launch of its S31C series SSDs that feature an expanded operational temperature range of -20°C to 75°C. ADATA Industrial's presentation underscores its robust technological research and development capabilities, along with an exclusive product lineup designed to fulfill diverse and essential technical prerequisites across various vertical applications. Visit ADATA Industrial at Cité Internationale, Lyon, booth E017.
ADATA Industrial is set to present an array of BiCS5 3D TLC storage solutions. These products incorporate components from KIOXIA and WDC, encompassing a wide range of standard specifications such as 2.5-inch, M.2 2280/2242, mSATA SSDs, as well as CFast and microSD memory cards. ADATA Industrial will present BiCS5 M.2 2280 SSDs featuring PCIe Gen4x4 ultra-high-speed transmission interfaces. These SSDs have successfully undergone multiple validations, achieving DWPD>1, a significant enhancement that substantially prolongs their operational lifespan. Additionally, it will demonstrate its latest S31C series SSDs that push operational temperatures beyond the standard 0°C to 70°C to a broader span of -20°C to 75°C.
In response to increasing worldwide demand for AIoT, ADATA Industrial R&D team has introduced distinctive value-added technologies that address critical aspects of AI-related vertical applications for data security, reliability, and durability. With the development of next generation cloud and AI industries, data privacy has become one of the most serious issues in digital trade. ADATA Industrial's exclusive data security encryption software A+ OPAL is the solution to this problem and is applicable to all TCG OPAL-supporting ADATA industrial-grade NVMe and SATA III SSDs. It provides users with comprehensive encryption protection through a simple and timely process. In order to enhance data reliability, ADATA Power Loss Protect (PLP) is implemented through software and hardware and utilizes reliable Tantalum polymer capacitors to activate the protection mechanism and back up important hard drive data when the system is powered off abnormally. In addition, considering that huge amounts of data must be collected, transmitted, and computed intensively on edge nodes or workstations without interruption, ADATA Industrial upgraded its A+ SLC technology to push the P/E Cycles of 3D flash memory products to 100,000 cycles, greatly prolonging the service life of SSDs and considerably improving durability.
Another highlight presented by ADATA Industrial is its high-performance DDR5 5600 industrial-grade memory solution, to be exhibited in a variety of specifications including U-DIMM, SO-DIMM, R-DIMM, etc. These products feature on-board PMIC, support On-die ECC error correction, utilize strictly screened high-quality components, is available in a variety of capacities, and only require a low 1.1V to operate. These memory modules adopt a 30µ gold-plated PCB coating which stabilizes and defines signal transmission. In addition, ADATA Industrial can also provide customized services according to customer needs such as anti-vulcanization technology and conformal coatings to strengthen against contamination, dust and humidity, and greatly extend the service life of the product.
For more details, please visit the official ADATA Industrial website: SIDO Lyon Exhibition eNews link:
You are welcome to visit ADATA Industrial's booth. SIDO Lyon 2023 exhibition information as follows:
Date: 20-21 September, 2023
Location: Cité Internationale, Lyon
Booth No.: E017