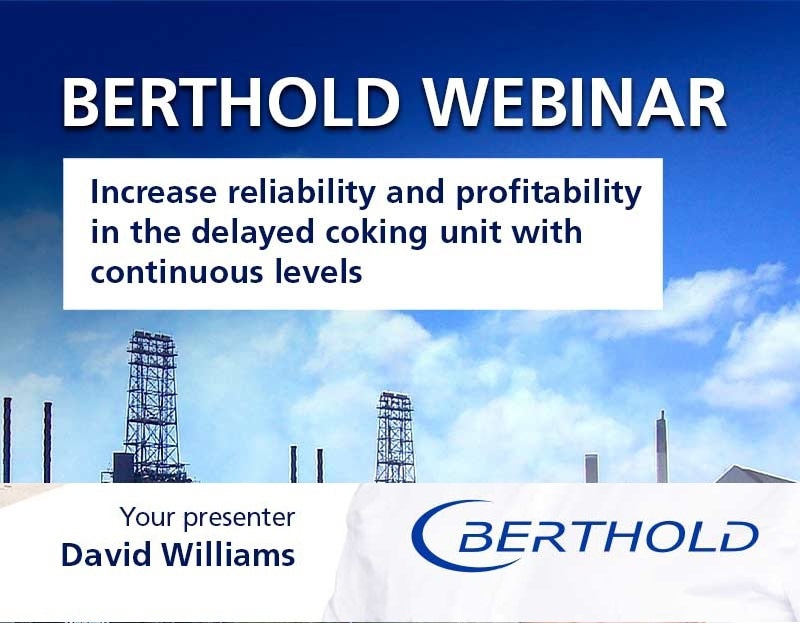 #

Trade Shows & Events
Berthold WEBINAR
Increase reliability and profitability in the delayed coking unit with continuous levels
The latest development in the safe and reliable operation of delayed cokers includes the use of of continuous nuclear level measurement on the drums. Continuous level can greatly increase reliability of the delayed coking unit by providing a better measurement to increase drum utilization, optimize the use of anti-foam chemicals and reduce the risk of costly foam-overs. The use of continuous levels on delayed coke drums has been approved by all 3 major licensors of coking technology.
and learn more from our expert!
Our top minds will take you through finding solutions to the challenges faced when measuring level in a coke drum.
Berthold at a glance
We have been safely using radiometric measurement principles for 70 years. With our proven technology and years of experience working in the refinery industry, we can develop a solution that is right for you and your process. Berthold Technologies is here to help assist refiners to safely and reliably control the most difficult measurement applications so they can maximize their margins by