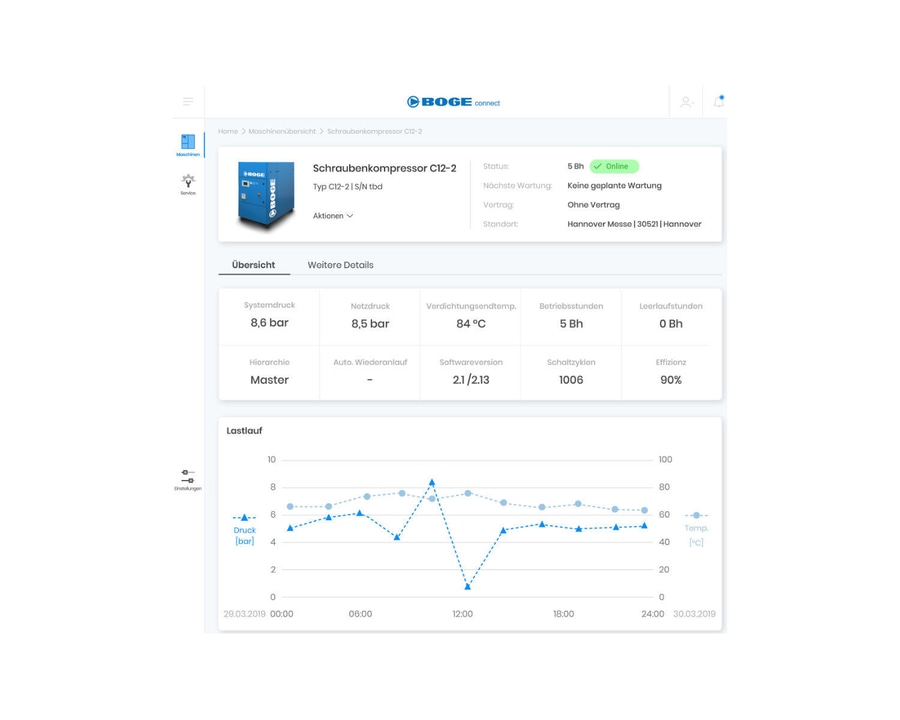 #

Industry News
BOGE connect: compressed air management at a new level
New service tool from BOGE
Analyse and optimise the operation of compressed air systems: the BOGE connect service tool enables intelligent compressed air management in the age of Industry 4.0. BOGE has made the requirements of dealers and end users central, with the development of the new service option. BOGE connect supports compressors over their entire life cycle and greatly reduces administrative outlay for dealers. The commissioning of systems can therefore be carried out quickly, simply and without paperwork. Maintenance intervals and other basic information are saved in a digital machine file. All important operating parameters are recorded, monitored and visualised. Operating anomalies can be determined at an early stage and optimisation potential can be shown through continuous analysis of the comprehensive amounts of data.
All BOGE screw compressors with a capacity of 45 kW will be fitted with BOGE connect as standard in future – older and smaller models can undergo simple retrofitting. All relevant data are immediately available to users in a digital machine file via the QR code installed on the machine and the BOGE connect app. This also includes a machine-specific checklist for carrying out maintenance work and the maintenance intervals specified. There are timely automatic reminders of upcoming maintenance or servicing. The colour visualisation enables a reading of the condition of the compressed air system to be made at any time: is it operating optimally, is there a fault, or is maintenance imminent? Using the remote access function, service engineers will be able to directly access the system remotely with the permission of the customer in future, for instance, to change the parameters or carry out a software update. BOGE connect automatically analyses the performance data and indicates inefficiencies. Maintenance can therefore be carried out proactively, to reduce downtime, minimise the risk of breakdown and increase the running time of the systems. Furthermore, savings potentials can be identified via the detailed analysis. The result: with BOGE connect, dealers have an important service tool for operating end customer systems with a high level of efficiency at all times to ensure secure compressed air provision.
About BOGE
As one of Germany's oldest manufacturers of compressors and compressed air systems, BOGE KOMPRESSOREN Otto Boge GmbH & Co. KG offers 111 years' experience. The company is also one of the market leaders. Whether for turbo compressors, screw compressors, piston compressors, scroll compressors, complete systems or individual devices, BOGE meets the most diverse requirements and highest standards, with precision and quality always at the forefront. The family company which operates internationally has a workforce of 850 employees, approximately 490 of whom work at the headquarters in Bielefeld, and is managed by Wolf D. Meier-Scheuven. With its numerous sales offices and subsidiaries, BOGE offers its international customers comprehensive services and supplies its products and systems to more than 120 countries worldwide.