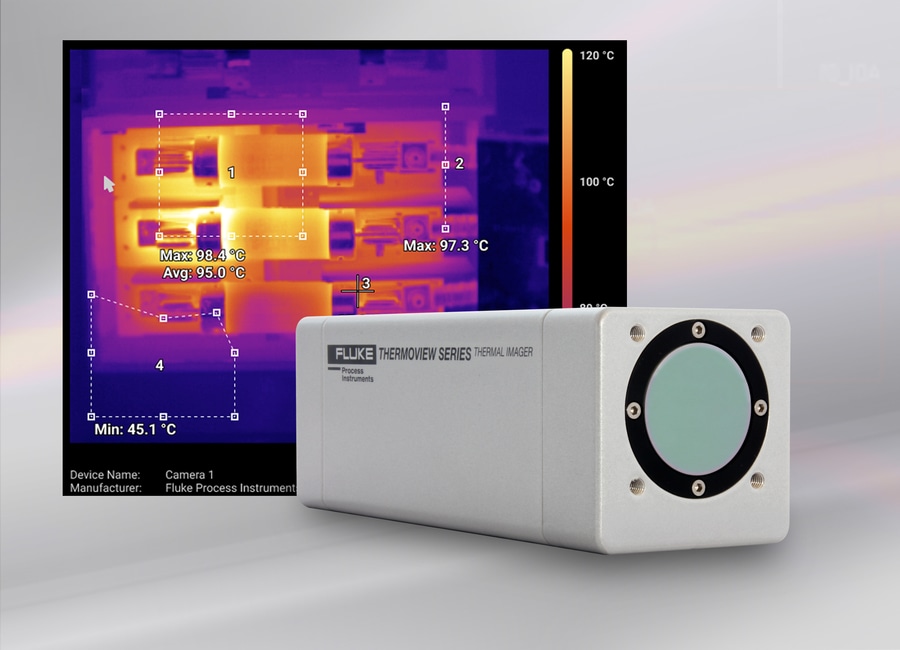 #

Product Trends
Advanced thermal imager for industrial automation, inspection, process monitoring and operational safety
Fluke Process Instruments announces a new standalone thermal camera with onboard web server, advanced analytics and high connectivity
Fluke Process Instruments has launched the new ThermoView TV30 thermal camera for factory automation and asset monitoring. The rugged, fixed-installation infrared camera measures a wide temperature range from -10 °C to 1300 °C (14 °F – 2372 °F) and provides an unrivaled scope of features and functions. The standalone camera provides full connectivity for easy integration with a PLC via OPC UA, or MQTT.
The new ThermoView TV30 thermal camera provides 24/7 monitoring of critical production processes or assets and real-time analysis and feedback to control systems to assure adherence to set temperature values and avoid downtimes or costly repairs. Users can program any number of Areas of Interest (AOI) with individual tolerances and automatic alarms.
The thermal camera is powered via a 24 VDC power supply or Power over Ethernet. It features a remote motorized focus. Three lens options are available with narrow or wide fields of view for different working distances. The camera housing is rated IP67. The manufacturer provides a full range of accessories for mounting outside or in hot, dusty or dirty environments.
Fluke Process Instruments designs, manufactures, and markets a complete line of infrared temperature measurement and profiling solutions for industrial, maintenance, and quality control applications. Distributed worldwide under the Raytek, Ircon, and Datapaq brands, the products reflect the combined experience of over 150 years in manufacturing the world's finest temperature measurement tools and devices.
About Fluke
Founded in 1948, Fluke Corporation is the world leader in compact, professional electronic test tools. Fluke customers are technicians, engineers, electricians, and metrologists who install, troubleshoot, and manage industrial, electrical, and electronic equipment and calibration processes.