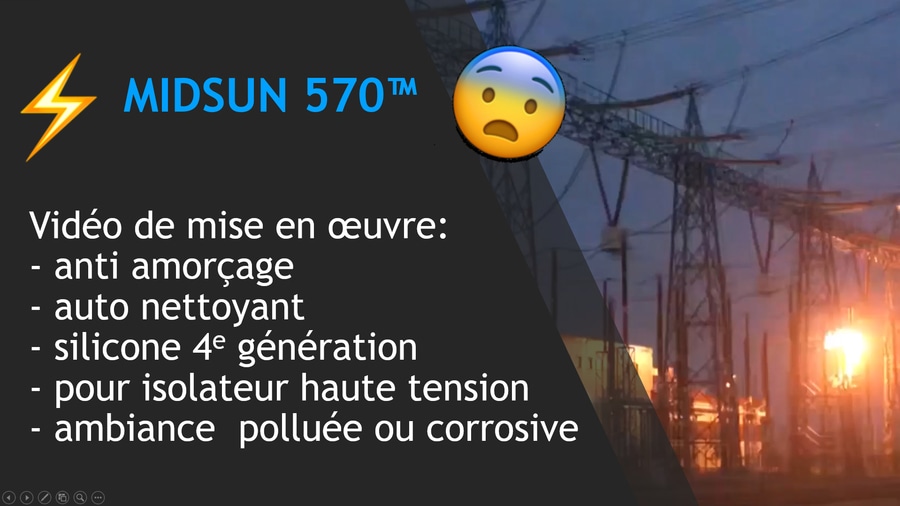 #

Product Trends
MIDSUN 570 silicone coating high voltage switchgear and insulators againt electrical arc
MIDSUN 570 silicone coating high voltage switchgear and insulators againt electrical arc
This video shows the problems of a power substation with pollution and dust deposition on the transformer insulators and high voltage switchgear of a 400 KV HVAC substation.
The deposits of salts and dust on the insulators cause a loss of electrical insulation and can thus visualize very large leakage currents up to the creation of an insulation fault and an electric arc. In fact this substation should proceed to a cleaning of its insulators every 3 months (for this substation), resulting in periods of severe cuts, and consequent operating losses. Or the use of products type silicone grease to change regularly (every 1-2 years). The use of a MIDSUN 570 coating makes it possible to no longer clean substantially for about 5 to 7 years and has a lifetime guaranteed by the manufacturer MIDSUN of 10 years.
Consult SANERGRID for other MIDSUN anti-corrosion ranges in electrical substations, and MIDSUN bird protection, thanks to the use of MIDSUN fourth-generation Silicone products.
Focus on 570 MIDSUN coating by SANERGRID
MIDSUN® 570 ™ HVIC High Voltage Isolator Coating
Unparalleled protection against electric arcs
MIDSUN® 570 ™ HVIC silicone coating extends the life of your products and increases their reliability at a lower cost. It prevents the appearance of excessive leakage currents, the elongation of discharges and the initiation of arcing, thus minimizing maintenance requirements.
A service without interruptions
The excellent performance of MIDSUN® 570 ™ HVIC RTV (Room Temperature Vulcanizing) Silicone Rubber Coatings is due to its hydrophobicity and unique adhesion properties, which have protective properties against flashover and electric shock. The excellent hydrophobicity of the coating prevents the formation of a deposit of contaminants on the surface. It allows to replace the traditional silicone grease which has the disadvantage of having to be changed frequently.
MIDSUN® 570 ™ HVIC is resistant to UV radiation, temperature variations, corrosive environments and aluminum hydroxide pitting caused by arcing in dry belts. This coating also has excellent hydrophobicity, preventing surface deposits of contaminants. It offers a long-term solution to breakdown problems.
MIDSUN® 570 ™ HVIC silicone coating eliminates the following operations or reduces their frequency:
- regular washing of insulators
- periodic greasing
- replacement of components damaged by electrical discharges repair of silicone coating or core in the case of composite insulators.
Mainly used in polluted sites such as steel mills, cement plants, quarries but also littoral or petrochemical sites ...
https://www.sanergrid.com/en/6__midsun
https://www.sanergrid.com/en/shelters-prefabriques-equipes/88-midsun-insulator-coating.html
https://www.sanergrid.com/en/accueil/75-midsun-animal-mitigation-solutions.html
https://www.sanergrid.com/en/shelters-prefabriques-equipes/89-midsun-rtv-silprocoat-protection-coating.html