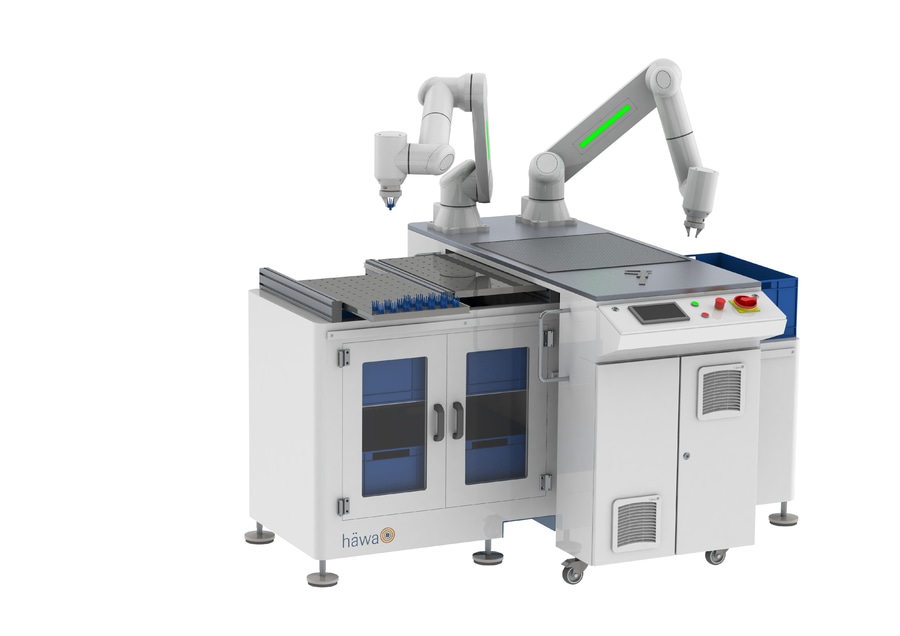 #

Industry News
The perfect solution for the customized cobot workstation
Wain, 2nd of May 2023. Cobots (collaborative robots) are increasingly being used in industry and production to automate processes. Due to their low weight, cobots are also known as lightweight robots. They are flexible and easy to transport.
Unlike robots, cobots are designed to work together with humans. They are used in the immediate vicinity of employees and do not require a protective enclosure. Special sensors ensure that the work of the cobots stops immediately if a human reaches into their working area. This opens up new avenues in industrial production. Cobots can support skilled workers by taking over simple, repetitive tasks.
Perfect coordination for cooperation between humans and cobots
In order to ensure a smooth workflow, the working conditions and the working environment must be geared towards the cooperation of human and cobot. The special cobot workstations required benefit from häwa's decades of experience in the field of machine enclosure, control cabinet and housing construction. Because every manufacturing and production process is structured differently and cobots take over different activities. That is why häwa offers individual, functional and innovative cobot workstations that can be customized and adapted to the specific requirements of a company. This includes both stationary and mobile robot bases.
The häwa experts have identified three different types of cobot frames and offer these variants that cover almost all conceivable requirements. This is, as the simplest variant, a cobot underframe and a modular cobot underframe: sturdy control cabinets that can be extended as required. As a second variant, robot benches for cobots from the successful X-frame modular system. And finally, as a third option, cobot workstations which are made completely to individual specifications. The patented X-frame machine frame is used and installed in the robot benches for cobots and the individual cobot workstations. The cobot subframes and the modular cobot subframes are sturdy and certified control cabinets with the desired IP requirement and can also be expanded modularly if required.
häwa GmbH offers the right frame for every requirement
The cobot base frame made of a sturdy control cabinet from häwa is particularly impressive due to its simple design and low costs. It is designed in protection standard IP 55, has doors on the front and rear and is equipped with filter, fan and mounting plate. The interior space is separated from front to rear due to the IP 55 requirements. The body is reinforced at all corners and edges. With freely selectable dimensions, the frame is available with locking castors or parking feet and, on request, with handles. The worktop can be ordered in aluminium, aluminium groove profile, wood or another type of construction material. The modular Cobot underframe can be extended by a base, a transport segment for a lift truck or an operating segment underneath the worktop. Additional functional levels can be designed according to customer requirements.
The häwa robot bench for cobots is a workstation from the X-frame modular system. The construction is in accordance with the components from the current X-frame system, the dimensions result from the standard dimensions of the horizontal and vertical struts. These housings also have a mounting plate, fan and filter and are manufactured to protection standard IP 55. Various door systems, plug-in doors, panels and Makrolon panes are in the range. Full struts and compact struts ensure easy side assembly. The dimensions and the material of the worktops are also freely selectable for these models, as is the design with either locking castors or adjustable feet. The third solution, an individual cobot workstation, also comes from häwa. In addition to standard solutions, häwa also offers completely customisable solutions that are planned according to the customer's requirements. With this individual offer, machine enclosures can be completely customised, as with X-frame.