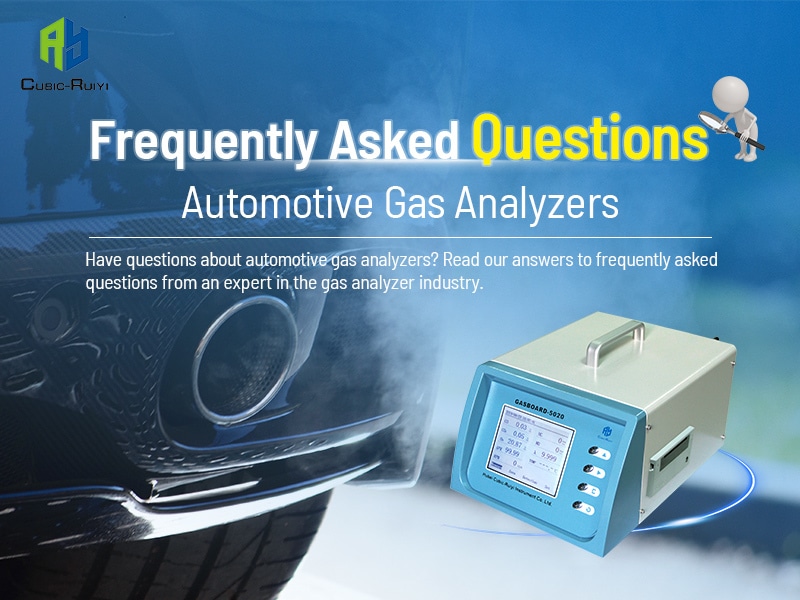 #

Product Trends
FAQs for Automotive Gas Analyzers
Frequently Asked Questions Automotive Gas Analyzers
1. What kind of emission gas analyzers Cubic-Ruiyi can provide?
Cubic-Ruiy is the manufacturer specialized in developing and providing a wide range of emission gas analyzers for different automotive applications. Based on our comprehensive gas sensor technology platforms, we provide portable and rack type emission gas analyzers, diesel opacity meters, PM analyzers, engine tachometers, headlight testers for PTI applications, inspection and maintenance stations, and automotive workshops; NOx, NH3 gas analyzers for off-road diesel vehicles and SCR efficiency monitoring; engine exhaust measurement systems for engine exhaust direct testing, and PEMS (Portable Emission Measurement System) for real driving emission testing.
2. What are the advantages of Cubic-Ruiyi NDIR gas bench?
Cubic-Ruiyi Gasboard-2000 NDIR gas bench is developed based on Dispersive Infra-Red (NDIR) principle to measure CO, CO2, HC three gases by one bench. Its regulated temperature system can greatly avoid temperature impact on accuracy; Cleanable gas chamber design realizes easy maintenance; Electrochemical O2 and NOx sensors can be plug-in easily onto the bench. Gasboard-2000 complies with advanced international standards including OIML R99 Class 00 standard.
3. What are the advantages of NOx gas analysis by optical principle?
Compared with traditional electrochemical principle, optical principle for NO and NO2 measurement could solve the problems of limited lifetime, frequent replacement and poor accuracy. Cubic-Ruiyi has developed different types of optical NOx gas analysis solutions, including UV-DOAS NOx gas bench which detects NO&NO2 gas simultaneously in one gas bench, and combination solution of using Micro-Flow NDIR NO gas bench plus the NDUV NO2 gas bench.
4. What are the strengths of Cubic-Ruiy?
Cubic-Ruiyi is specialized in automotive industry for more than 18 years, we can benefit our partners from 5 aspects as follows:
• We have the insight of automotive emission inspection and our solution fully complies with local regulation.
• We master comprehensive technologies including: UV-DOAS, NDUV, Micro-flow NDIR, Dual Beam NDIR, Zirconia, ECD, etc.
• We fabricate the core components in our factory, so we can ensure good quality, stable supply and fast delivery.
• Prompt technical supports services.
• Continuous development on new technologies and gas analyzers.