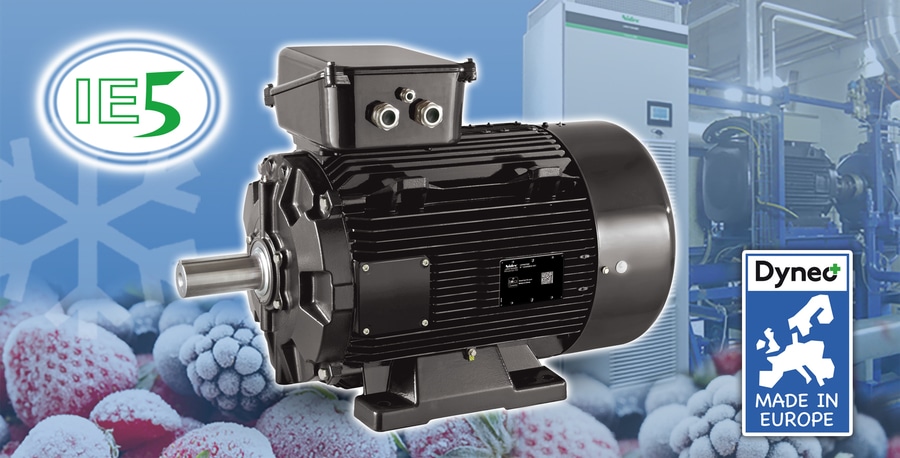 #

Product Trends
Dyneo+ from Nidec Leroy-Somer significantly reduces the energy consumption of the industrial refrigeration process
The Dyneo+ range of IE5 synchronous reluctance permanent magnet (PM) motors, with rare earth free rotor, offers multiple advantages be it in terms of energy efficien
Nidec Leroy-Somer, the world specialist with a wealth of experience in drive solutions for industrial refrigeration, has for more than 40 years provided refrigeration professionals with its motors and speed drives for improved productivity. Its latest development, the Dyneo+ range of IE5 synchronous reluctance permanent magnet (PM) motors, with rare earth free rotor, offers multiple advantages for driving screw compressors, piston compressors, circulation pumps and condensers, be it in terms of energy efficiency, performances or reliability.
Companies that use industrial refrigeration equipment have long been aware of the impact that the power consumption of a refrigeration installation can have both on energy bills and on the environment. The cold compressor, at the heart of the system, remains the most energy-hungry element, and can represent up to 80% of total power consumption. Electric motors, which are ubiquitous in the cold chain, constitute the main source of potential energy savings.
Thanks to its expertise in the design and manufacture of industrial drive systems, Nidec Leroy-Somer offers a wide range of drive solutions at fixed or variable speed, providing significant energy savings on the refrigeration market.
In addition to these complete and well-established ranges for this sector, Nidec Leroy-Somer has just launched its new Dyneo+ synchronous reluctance PM motor, ranging from 11 to 500 kW, for speeds of up to 4500 rpm. Specially designed for variable speed, this motor offers an economic and ecological solution for the requirements of industrial refrigeration.
To address the energy transition challenges, the European Parliament recently voted, on 8 October 2020, in favour of a new ambitious climate law targeting 60% reduction of greenhouse gas emissions by 2030, and climate neutrality by 2040. As part of this approach, the latest Commission Regulation (EU) 2019/1781, applicable to electric motors and variable speed drives, defines and schedules increasingly stringent efficiency levels for machines sold on the European market. Every industry - and in particular the most energy-intensive ones - is affected by these developments, designed to help protect the environment, not least considering that the cost of electricity is likely to climb significantly in the years to come.
With its IE5 Ultra-Premium efficiency level, Dyneo+ has all it takes to rise to this energy challenge, offering as it does substantive energy savings in real conditions of use over the course of the cycle, at variable speed and load, as is typical with industrial refrigeration, where needs fluctuate considerably according to season and production level. Thanks to its energy performance, the Dyneo+ solution makes it possible to significantly increase the COP ("Coefficient of Performance", expressed by the ratio between refrigeration capacity produced and power consumption) of a refrigeration unit. As well as helping to reduce the carbon footprint, the range offers a TCO (Total Cost of Ownership) among the lowest on the market, and for rapid return on investment, generally in less than one year.
Dyneo+ motors are designed to operate exclusively with a variable frequency drive, allowing them to adapt to the speed of the machine being run and improve its performance when operating in overspeed. This provides the benefit of additional refrigeration capacity for a given device, thereby avoiding having to start up another compressor during a production peak. Moreover, the Dyneo+ solution enables optimisation of the number of compressors for a given installation. Delivering precise speed and torque control in sensorless mode, it guarantees constant torque over extensive speed ranges, with no derating or forced ventilation.
Nidec Leroy-Somer has developed the Dyneo+ range based on the mechanical platform of its IMfinity® induction motors, known for their robustness and reliability. The use of proven components makes these new motors extremely robust and long-lived by design, thereby limiting the risk of refrigeration system failure. What is more, Dyneo+ has been designed for ease of installation, simple setup and easy maintenance. Generating low rotor losses, the magnetic synchronous reluctance technology reduces maintenance costs, in particular by extending the lubrication intervals. Whether compact or IEC interchangeable, with aluminium or cast-iron housing, or in IP55 or IP23 version, these motors are as easy to fit in new machines as they are to retrofit in existing installations as part of an energy optimisation project.
Dyneo+ is connected to the Systemiz interactive application, which provides a wide variety of digital services, including instantaneous access to all the product literature, and easy and intuitive drive setup by simply scanning the QR code on the nameplate.
With its "Made in Europe" and low carbon footprint credentials, the Dyneo+ motor is eligible for Energy Savings Certificates, also known as White Certificates, generating government aid through the energy savings made. This makes for easy financing, meaning considerably faster return on investment, on top of the accrued energy savings
Environmental compliance, energy performance and top-notch reliability: Dyneo+ motor represents a drive solution that is perfectly suited to the optimized productivity needs of industrial refrigeration.