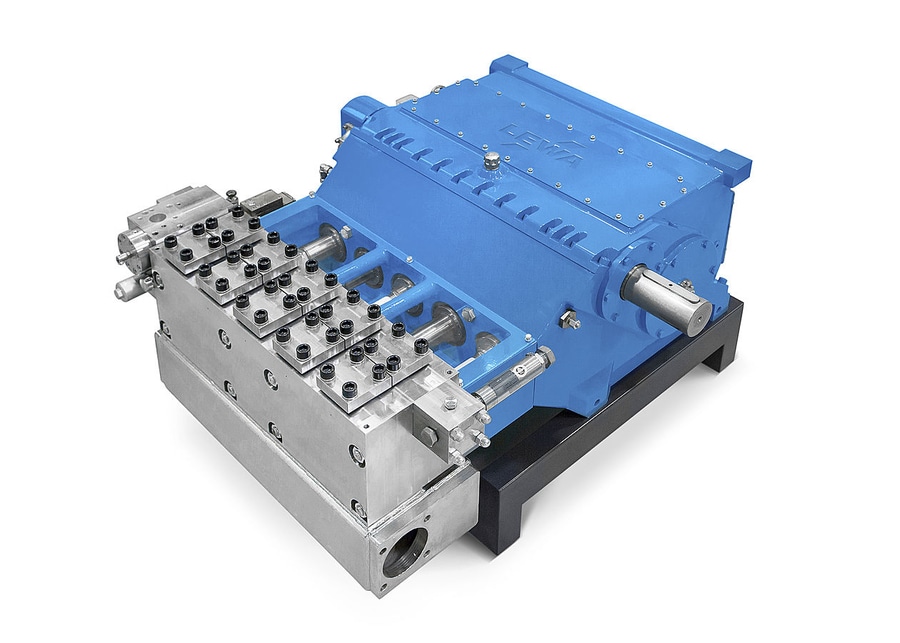 #

Product Trends
New design for plunger pump: splitted gear box and improved maintenance possibilities
The very short design of Lewa plunger pumps is made possible by the special alignment of the plunger and crosshead. These pumps also have outstanding efficiency, low energy consumption, and a long service life. The new structure with the splitted gear housing and the fully balanced crankshaft doesn''t just reduce wear, but also particularly facilitates maintenance. The design of the pump also permits the maintenance of components without disassembling the process pipeline. The crankshafts are drop-forged and shot-blasted, leading to a homogeneous grain structure and low stress level. The integrated gear unit is self-adjusting and both the crankshaft and the pinion shaft are practically free of axial load.
Lewa plunger pumps are very powerful and work with volumetric accuracy. Their large valve cross-sections make the suction pressures required comparatively small. This mostly eliminates the need of a booster pump. Starting at a power of 15 kW, flexible use is possible at different drive speeds up to 800 kW, at pressures of up to 3,500 bar and a maximum flow rate of 290 m3. They are especially used for uncritical fluids like glycol, methanol, or inhibitors that are similar to water in terms of their viscosity.
Now both quintuplex variants, the G5K 500 and G5K 800, are available with maximum power of up to 800 kW. By increasing the number of plungers, the size of the individual components can be reduced for the same hydraulic power. That leads to a reduction in weight, in turn facilitating maintenance.
Due to the modular construction, a pump can be configured that meets the requirements resulting from the application. Different pump head designs and valves are available for this purpose.