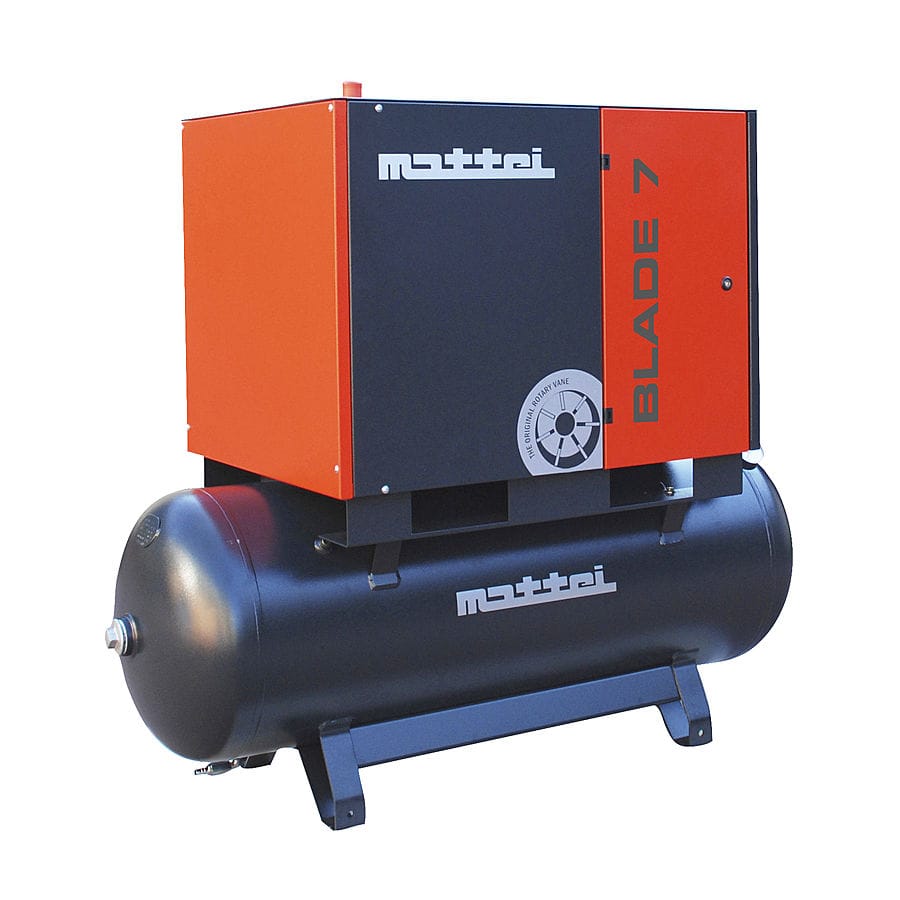 #

Product Trends
Blade, the compact and efficient compressor for small companies
The Blade compressors are available in the version with or without tank. In the near future the range will also include the package Blade SE variant, with a tank and air dryer.
How it works:
Blade is a rotary vane compressor consisting of a stator, in which an eccentrically mounted rotor rotates tangentially to it. The rotor has longitudinal slots, which house the vanes, kept in contact with the stator by centrifugal force. Motor-compressor transmission takes place through high efficiency trapezoidal belts, the tension of which is ensured by a sliding belt tensioner system.
These are the benefits of the Blade rotary vane compressors:
Compactness – The limited dimensions of the pumping unit have allowed making an extremely compact machine, easy to position even in small areas.
Easy maintenance and long life – The characteristic design makes preventive maintenance operations simple and fast. The cast iron vanes and the bearings have a practically unlimited life, whilst the special vane rotating technology, without axial thrust, means cutlass bearings are unnecessary. In addition, the sliding belt tensioner system and the quality of the belts ensure their long functioning life. Special maintenance kits further simplify the operations of programmed maintenance.
Air quality – The integrated system of separating the oil in several stages, as well as allowing an exceptionally low consumption of lubricant, ensures a limited oil carryover of below 3 mg/m3.
Reliability and efficiency – Suitable for operating even in the most challenging applicative circumstances, the Blade compressors stand out for their reliability. The rotation speed range of the compressor is comprised between 1/5 and 1/3 of the rotation speed of a traditional belt drive screw compressor of equal power, with benefits not only in terms of reliability but also reduction of energy consumption and silence. The operating efficiency is further increased by the oil and compressed air cooling system, based on two wholly aluminium radiators.
Low noise – Vane technology ensures silent operating, which makes Blade compressors suitable for operating in all workplaces.