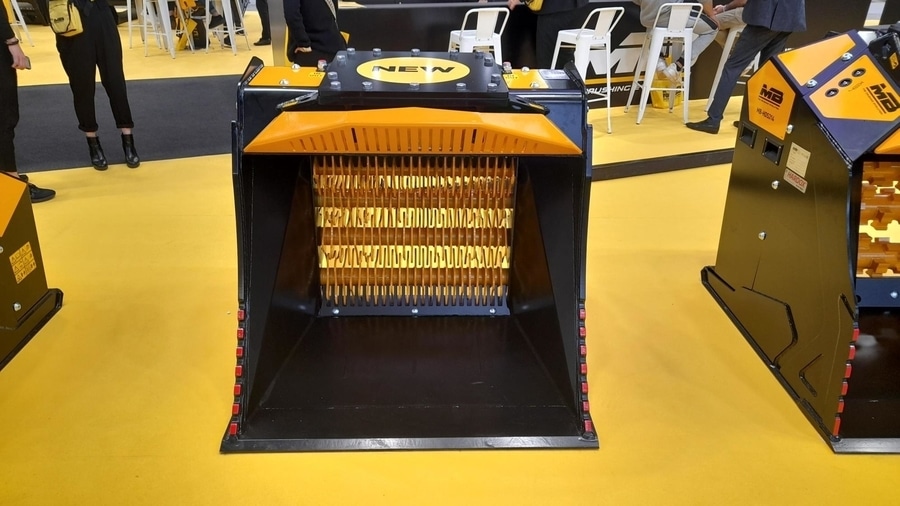 #

Product Trends
WE REALLY MISSED THESE!
MB Crusher launches 5 new products at Samoter
There are 5. They are new and have been launched in the world premiere at Samoter 2023: MB Crusher adds to its range of sorting grapples and padding buckets.
The goal is always to facilitate work on-site, reduce processing times, and save on management costs. In short, we can serve all types of construction sites, heavy machines, and application areas, none excluded.
NEW SORTING GRAPPLES: MB-G400 and MB-G500
There are two new models that expand the compact line of sorting grapples: the MB-G400 and the MB-G500.
The MB-G400 weighs 200 kg and fits on mini excavators from 2.4 to 4 tons.
The MB-G500 weights 420 kg and fits midi excavator from 5 to 7 tons.
Compact, precise and very versatile, both new sorting grapples have a much wider opening of the claws and therefore can grip and handle even large materials.
They are equipped with an anti-fall valve, which guarantees maximum safety on site, avoiding accidental openings in case of sudden pressure drop of the carrier machine and a silent block, which allows its use even in areas where it is necessary to keep noise under control.
The wear parts are made of Hardox.
Both models are designed for the installation of an electrical kit for two-pipe functionality, which allows you to work with the 360° rotation movement even with excavators that have a system with only two pipes and are equipped with an interchangeable blade that can be turned upside down, so as to extend the life of the blades.
Both are available in two versions, with or without a rotating turret.
In both models, you can install some accessories that simplify the handling operations: the clamshell kit to collect and handle small material, load soil, gravel and sand; the grip improvement kit to handle material of particular shapes; and for the MB-G500 also the tilting lifting kit with rubber profiles, to handle blocks of linear and delicate material and internal keel grip improvement kit.
NEW MB-HDS307, MB-HDS312, MB-HDS412 PADDING BUCKETS
Of the new padding buckets, two are designed for compact machines and the third is for heavy machines. All three are designed to facilitate work in all construction sites where it is necessary to aerate packed soil – for example when you have to arrange a green area, a garden, or a flowerbed; or when there is a need to reclaim and clean the land from various demolition debris, stones or roots; or again to select the material for the cover of pipes or trenches and construction of the laying bed
So, let's look at them in detail.
The MB-HDS307 weighs 170 kg and can be installed on excavators from 2.5 to 5 tons.
The MB-HDS312 weighs 720 kg and is used with excavators from 7 to 11 tons.
The MB-HDS412 weighs 1.2 tons and is used with excavators from 10 to 14 tons.
Maintenance is simple – the greasing is centralized and doneon-sitee and the maintenance devices are located inside the bucket tool compartment.
As with the other HDS models, the new machines also have rotors that are replaced in a simple way, directly on-site and in complete safety: a few minutes are enough. The patented MB Crusher system holds the rotors still so that they can be easily extracted and exchanged, the angular phase is already aligned. This means having the construction site always in action.
In addition, an automatic hydraulic bumper system reduces hydraulic shock so that the engine, transmission parts and operating machine are not damaged. To the benefit of durability and maintenance costs, which are drastically reduced.