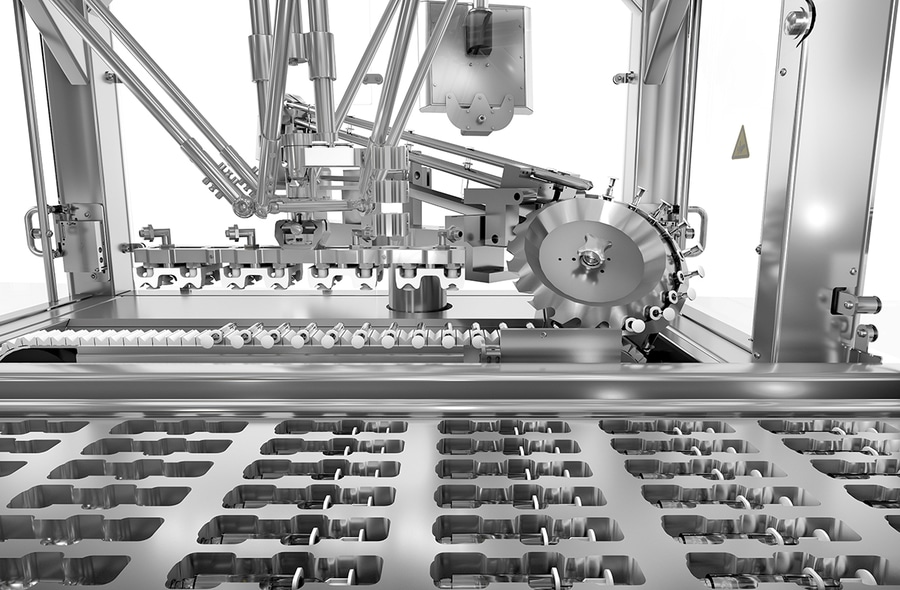 #

Product Trends
Efficient and controlled syringe feed system
For the first time MULTIVAC is presenting its own solution for the automatic infeed of pre-filled syringes, which can be seam-lessly integrated into a packaging line.
The system is designed for pre-filled glass or plastic syringes with or without hollow needles. With a processing speed of up to 300 injec-tions per minute, syringes with a diameter of 6.5 to 25 mm and a length of 70 to 150 mm can be controlled and thus reliably fed into a thermoforming packaging machine.
These delicate products are transported hanging by a product infeed conveyor to the actual loading system, as the syringes are held on the flange. By means of transport rails the syringes travel arrive at a star wheel, where they are separated and oriented. The previously vertically positioned syringes are then horizontally positioned. The star wheel transfers the syringes to a servo-driven trapeze belt. There they are taken up by a pick and place robot and deposited in the pack cavity of the thermoforming packaging machine.
The infeed system guarantees a controlled infeed process and offers a high degree of flexibility with the option of easy and fast conver-sion between various syringe and carrier formats. The star wheel and trapeze belt can be replaced in a short time without the use of tools - this reduces downtimes, thus increasing the efficiency of the entire system. Control is user-friendly and safe via the HMI of the ther-moforming packaging machine.