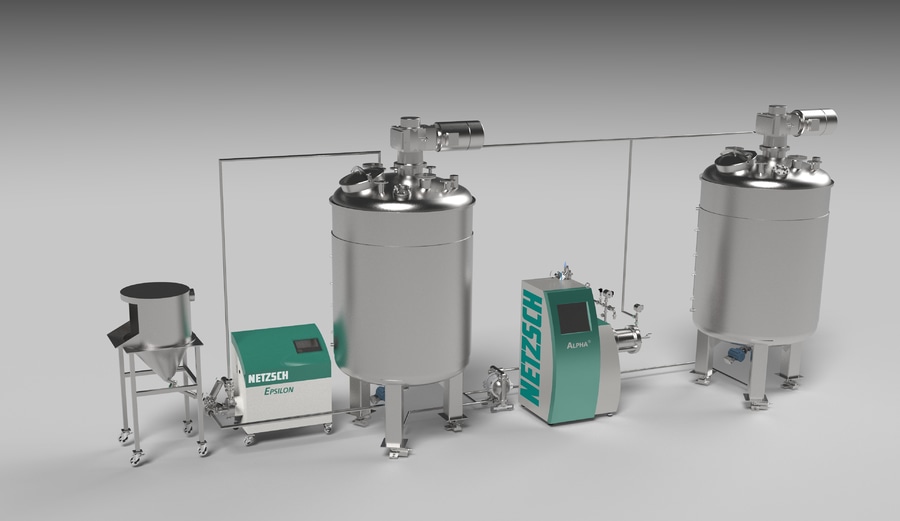 #

Trade Shows & Events
From the individual Solution to the turn-key Plant
Come and see at ACHEMA 2018
In addition to individual machines for the processing engineering stages mixing, dispersing, homogenizing, dry and wet grinding, deaeration or classification, the NETZSCH Business Unit Grinding & Dispersing also offers complete, so-called turn-key plants.
With its extensive portfolio and decades of experience, NETZSCH provides ideal solutions for a wide variety of product groups from the chemical industry, pharmaceuticals and cosmetics, foods and minerals.
The equipment allows product development on the smallest laboratory scale, with a minimum of 15 ml active grinding chamber volume. A scale-up to production scale is possible. The largest mills made by NETZSCH-Feinmahltechnik GmbH have a grinding chamber volume of 15,000 l.
Diverse individual solutions will be presented at the ACHEMA 2018, along with skids and complete plants in a 3D virtual reality system. Stop by for a personal consultation with our product experts and learn, for example, why NETZSCH sees the combination of an EPSILON inline disperser and a NEOS high-performance grinding system as the ideal universal solution for processing most printing inks. See a complete turn-key plant or find out about the innovative lab machine ALPHALAB ZETA®RS for your development projects for wet grinding applications.
Learn why NETZSCH is focused not on the standard solution, but on optimal solutions for maximum production performance, reliability and efficiency that are customized for your individual product.