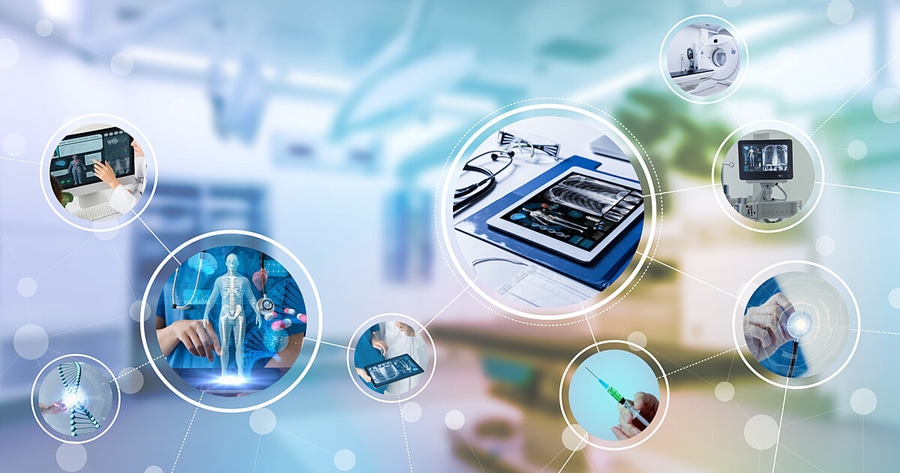 #

Industry News
Can Manufacturing Technology Enhance Healthcare?
Enterprises can leverage "Factory of the Future" technology to improve processes and enhance patient care.
Modern enterprises are up against significant pressure to prove their capabilities and demonstrate value. The race to remain competitive in a rapidly evolving technology landscape is forcing innovators to push their boundaries and deliver results that have historically seemed too far-fetched. A major driver of this transformation is the way products are manufactured, which has evolved greatly in a short period.
Intelligent manufacturing places data at the heart of the business. This requires an agile approach to innovation, and the rewards are significant. Research shows that enterprises that successfully implement intelligent initiatives realize 17 – 20% efficiency gains, signaling that the promise of smart manufacturing is not to be ignored.
The Intelligent Industry has arrived, and these smart products are impacting enterprises across industries – and it all starts on the factory floor. Creating a Factory of the Future involves aggregating manufacturing data and migrating it to the cloud, and then using that data to glean insights and make predictions that improve efficiency, transparency, and effectiveness.
One industry in particular that has much to gain from these insights is healthcare, where intelligent products have the potential to be not only life-changing, but lifesaving.
What Is the Factory of the Future Approach?
Using digital manufacturing to help enterprises achieve scalability is core to smart manufacturing. This approach begins with an Intelligent Operations Platform (IOP), which integrates with the existing tech stack to improve the organization's existing manufacturing processes.
There are three key "Factory of the Future" solutions:
. The Manufacturing Performance Platform (MPP) collects all data from the factory floor, aggregates it in the cloud, and analyzes it to provide KPIs and other insights.
. Data-Driven Quality (DDQ) is a manufacturing quality solution that collects data from raw and work-in-progress materials to share insights on the quality, any potential red flags, damages, issues, etc., as well as how these issues occurred and can be amended.
. Reflect IOD is a 3D virtualization tool in which talent across the enterprise can view factory parameters in near real time.
The goal of these solutions is to combine all manufacturing data to generate intelligence to drive business decisions, performance, and patient impact.
Transforming the Future of Healthcare
The role of the healthcare and pharmaceutical industries is to prevent and cure disease – but of the utmost importance is the safety of patients. Perhaps unlike any other industry, the confidence that the patients, family members, and physicians put into the quality of a product (medication, medical device, etc.) is significant and makes for a life-or-death situation.
This high-stakes nature of the healthcare industry has made many pharma enterprises slower to get on board with smart manufacturing. Additionally, many pharma companies are used to human intervention, making switching to a fully automated manufacturing system a massive organizational change.
Many have only begun to take their first steps into smart manufacturing from an intelligent and sustainable process standpoint. In the current state, these factories of the future will not replace human intervention anytime soon – but many significant use cases already exist.
Smart manufacturing today can help pharma companies with two major focus areas – predictability and adaptability. It can ensure the ability to solve issues before they occur, or to ensure that the same issues do not occur more than once.
Once healthcare and pharmaceutical organizations begin leveraging the smart manufacturing approach, the potential is limitless. For example, medical device manufacturers will be able to improve manufacturing agility, decrease manufacturing costs, and leverage end-to-end traceability to ensure product integrity, and regulatory compliance, and that all safety requirements are met. For pharmaceutical companies, smart manufacturing can improve quality, safety, sustainability efforts, supply chain efficiency, and more – all at transformational speed.
Challenges Preventing Mainstream Adoption
With such striking potential, the question remains as to why other industries have been able to seamlessly adopt a Factory of the Future approach, whereas healthcare has lagged. As mentioned previously, the high-stakes nature of this sector means that healthcare and pharmaceutical companies will demand perfection from their smart manufacturing capabilities – and there is an understandable hesitancy to leap. There is also a constant discussion surrounding the ROI of investment in research and development versus operational transformation.
Beyond this, several major challenges are preventing the full adoption of these technologies – capabilities, talent, regulations, and silos, to name a few.
To completely overturn all manufacturing for a healthcare company, would require an overhaul of all processes and talent. Connecting to existing technology and data systems can be a big challenge – especially because many healthcare manufacturers' foundational manufacturing technologies are dated and complex due to M&A activity.
Additionally, existing talent will also be used to these legacy methods and may not have the required skill set to adapt. What's further, any changes to the process must be disclosed to the FDA, requiring a flawless paper trail and regulatory approval.
Finally, intelligent products and services require many different elements – materials, sourcing, testing, packaging, and line manufacturing – which are all different entities within one organization. Breaking down these silos and consolidating their technologies and processes is a large undertaking in itself and is essential to the transformation to smart manufacturing.
While there are industries further along, leaders in the healthcare sector – as well as the agencies governing it – have seen the immense potential of smart manufacturing technology. Unlike any other industry leveraging this technology today, the demand for zero error is not an option when patient care and lives are at stake. But once that barrier has been cleared, the life-saving potential of this transformation will drive equity and value across the entire healthcare sector.
No matter where you are in the intelligent manufacturing journey, the potential for smart technology to transform your business should not be taken lightly. While many challenges still exist for early adopters in the healthcare industry, meaningful impact on top and bottom lines, and ultimately patient lives, has been created.