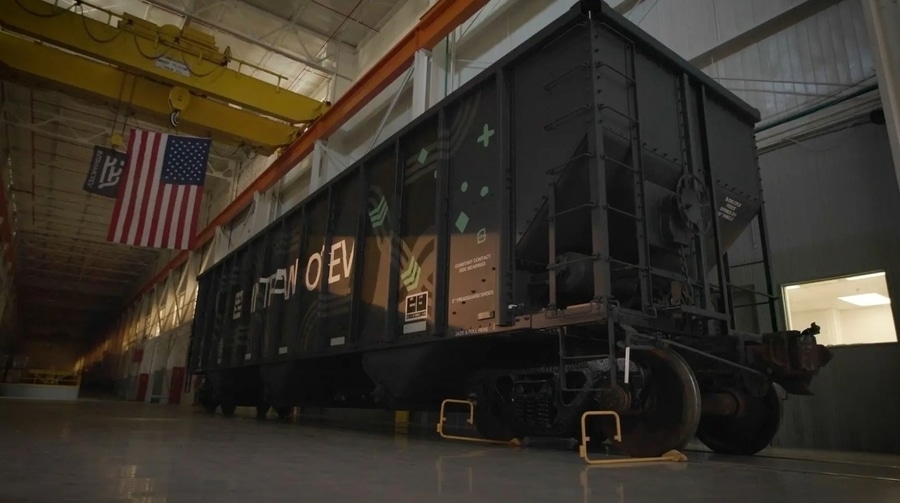 #

Industry News
New Autonomous Battery-Electric Trains Are Coming For Your Diesel
A Missouri startup is pushing the envelope on electric trains with a fleet of autonomously operable, battery-electric railcars.
Electric trains are commonplace in commuter rail systems, but they have yet to make an impact on the freight shipping business. That is beginning to change. The latest development on the rail electrification front involves the St. Louis, Missouri, company Intramotev, which aims to push diesel fuel out of the locomotive picture with a fleet of battery-electric autonomous rail cars.
One Step Closer To Electric Trains
Most freight trains in the US are already halfway to electrification. They deploy an electric drive that runs off a diesel generator. Diesel-electric locomotives first appeared in the 1920s and soon gained currency as a labor-saving, cost-cutting technology improvement over steam-driven trains.
In contrast to multiple crews required for each steam locomotive, diesel-electric trains can be crewed from a single locomotive coupled together with another one, or more.
Diesel-electric trains are an improvement over their steam-driven ancestors, but there is always room for more improvement. A 2021 study in the journal Nature Energy describes the current state of affairs.
"Nearly all US locomotives are propelled by diesel-electric drives, which emit 35 million tonnes of CO2 and produce air pollution causing about 1,000 premature deaths annually, accounting for approximately US$6.5 billion in annual health damage costs," the authors point out.
The Electrification Solution
Until recent years, the relatively high cost and scarcity of renewable energy put a damper on the vision of diesel-free electric trains. Now the script has flipped.
"Improved battery technology plus access to cheap renewable electricity open the possibility of battery-electric rail," the Nature Energy authors explained. According to their findings, a standard boxcar could be converted to an electric tender car loaded up with batteries to achieve an all-electric range of 241 kilometers.
"At near-future battery prices, battery-electric trains can achieve parity with diesel-electric trains," they noted, though with some important qualifications. Cost parity would also have to factor in access to fast-charging infrastructure and wholesale electricity prices, and the playing field would have to be leveled to account for the environmental cost of diesel-electric trains.
Despite these caveats, electrification could win the bottom line race sooner rather than later. "Accounting for reduced criteria air pollutants and CO2 emissions, switching to battery-electric propulsion would save the US freight rail sector US$94 billion over 20 years," the authors concluded.
Autonomy Begets Parity For Electric Trains
The Nature Energy study focused on here-and-now solutions, so it did not zero in on autonomous railcars. However, autonomous technology is beginning to emerge on a demonstration scale. It could potentially tip the cost balance over to full electrification and railway stakeholders are starting to pay attention (see more of CleanTechnica's electric train coverage here).
Intramotev sailed across the CleanTechnica radar earlier this week, with its TugVolt model for retrofitting existing electric railcars with battery kits. The railcars can perform independently in freight yards and other stops for "first mile" loading duties, link into trains for traveling over long distances, and decouple to reach their "last mile" destination.
The decoupling factor adds a new level of efficiency. It would free rail cars from having to muster in large, centralized freight yards. They could potentially travel closer to their destinations without relying on trucks to fill in the last leg of the journey.
Intramotev appears to be taking full advantage of electrification add-ons. TugVolt railcars are part of an integrated suite of systems that also includes the company's ReVolt regenerative braking technology, which has become a must-have for electric trains. Automated safety systems for gates, hatches, and other equipment round out the package.
Two Steps Closer To Electric Trains
Intramotev got off to a healthy start back in 2021, when the early stage venture capital fund Idealab X chipped in to help launch the company into the next stage.
"The infusion of capital will accelerate the development of Intramotev's commercial demonstration vehicle and proprietary rail autonomy software. The technology has promise to disrupt traditional rail as well as applications within mining, ports, and intermodal freight movement," Intramotev stated in a press release. The company also noted that hundreds of thousands of railcars sit idle in the US on a daily basis, waiting for a locomotive to take them somewhere.
"We envision a future in which freight can move itself without waiting for a locomotive, making the system more efficient and environmentally friendly," said Tim Luchini, Ph.D., the company's CEO.
Last week, Intramotev got another push in the right direction, with a $200,000 grant from Michigan's Office of Future Mobility and Electrification. The dollars will go to send a mini-fleet of three TugVolt railcars to a mine in Michigan later this year.
The mining site fits in with Intramotev's near-term plans for deploying TugVolt railcars in self-contained use cases, including ports, processing facilities and plant-to-plant operations as well as mining.
Red State Launches Diesel-Killing Electric Trains At Nation
The vision of long-distance electric freight trains will have to wait a bit, though possibly it will be a small bit. In a press statement, Luchini emphasized that the "captive route" model is just a stepping stone.
"…we look to apply the packetization of the internet model to freight logistics initially on short captive routes and remove the actual distance then rapidly expanding to the full network of 140,000 miles of existing U.S. track without additional infrastructure," he explained. "We envision a future where freight can move itself without waiting for a locomotive, making the system more efficient and environmentally friendly."
In the same press release, Intramotev also noted that it aspires to help other railway stakeholders meet the 2050 net zero goal of the Federal Railroad Administration's Climate Challenge.
The Climate Challenge is a voluntary goal-setting exercise and it accommodates three types of carbon offsets that enable stakeholders to continue using fossil fuels: purchasing carbon credits, producing on-site renewable energy, and carbon sequestration (planting trees, for example).
That may not sound too ambitious in terms of rapid decarbonization, but FRA appears to expect that new technology will push the need for offsets into the background.
"Achieving this [net zero] target will contribute to FRA's key goals of building a safe, efficient, and modern transportation system that will expand economic opportunities, create cleaner communities, and help avert the worst effects of climate change," FRA states. "Simultaneously, the Challenge will promote the country's global leadership in innovation and climate protection."
Interesting! CleanTechnica has been taking note of almost two dozen US states in which public officials have been working in favor of fossil energy stakeholders by railing against ESG (environmental, social, governance) investing. Meanwhile, businesses in their own home states are setting up shop to produce new clean tech that will decarbonize the whole US economy, including bulk energy storage and green hydrogen (see more coverage here).
It looks like Missouri can join the list. On April 3, State Attorney General Andrew Baily reported that he is joining 20 other attorneys general to warn a group of 50 asset managers against "Environmental, Social, and Governance (ESG) investments being made with Americans' hard-earned money."
"My office is putting these companies on notice that we will do everything in our power to safeguard Missourians' investments from being corrupted in favor of a radical social agenda," Baily stated.
It appears that Baily did not get the memo about radical social diesel-killing electric trains being developed by a startup based in St. Louis, right in his own backyard. Nevertheless, if all goes according to plan, Baily's home state will be the centerpiece of a railway electrification web stretching from coast to coast.