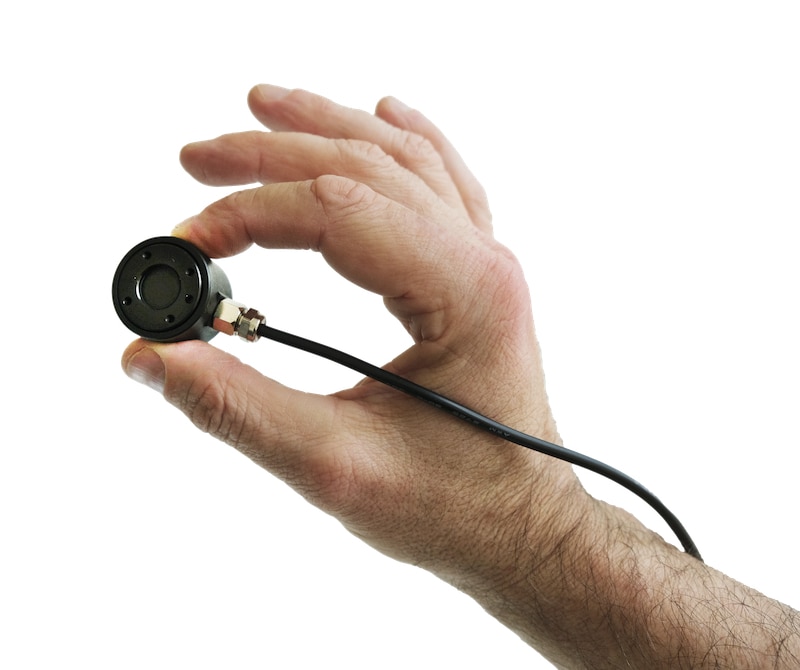 #

Product Trends
Bota Systems unveils miniature 6-axis force-torque sensor
Bota Systems, a specialist in multi-axis force-torque sensors, has launched its smallest sensor yet, the MiniONE. Designed to enhance micro-robotic systems with haptic feedback, the MiniONE is a six-axis sensor that is simple to install between a robot arm and almost any end of arm tooling (EOAT).
Bota Systems will be showing the MiniONE at ICRA, the IEEE International Conference on Robotics and Automation, from 29 May to 2 June 2023, in London, UK (booth I19).
With a tiny footprint, and weighing only 30 g, the MiniONE is ideal for medical applications, product testing, as well as precision tasks like micro-assembly and micro-polishing. It is also well suited as a fingertip sensor in hands and grippers, as in humanoid robots.
The MiniONE provides an ultra-low-noise signal, with high sensitivity and outstanding drift performance. It is a 'plug and play' design that includes temperature sensors and built-in filters, making it easy to program and set-up.
With a diameter of just 30mm and a depth of 22.2mm, the MiniONE requires no external hardware. This sets it apart from competitor products that need adapters or interface boxes, making it simpler to use. By fully integrating the MiniONE's electronics in its shielded housing, wiring, weight, complexity, and measurement uncertainty are all reduced.
Moreover, the MiniONE is dust and water resistant to IP67, and includes a USB communications interface. To save development time, it is available with Bota Systems' software packages for ROS, Matlab, Labview, TwinCAT and Python.
Klajd Lika, CEO and co-founder at Bota Systems, says: "We listened to our customers' feedback and developed a tiny sensor compared to existing alternatives that were too bulky.
"By giving robots the sense of touch, our sensors enable them to move as naturally and freely as people."
Stan Gleizer, director of applications at Mecademic Robotics, says: "Our Meca500 is the most precise and compact 6-axis robot on the market, and the MiniONE offers the matching sensitivity, in a tiny package.
"Integrating the MiniONE with Meca500 is simple and fast, making it easy to add force control to robotics applications."
A robotic force torque sensor is a device that measures force and torque when they are applied on its surface. By using the measured signals in real-time feedback control, robots can perform challenging interaction tasks. The sensor used most commonly in robotics of this type is a complete six-axis sensor, which measures forces and torques on three axes each.
Robots are increasingly being used in more unstructured environments, and are required to perform more demanding tasks and to collaborate with people, necessitating sensors to make them aware of their surroundings.
Force torque sensors enable them to perform previously impossible tasks, such as polishing on complex surfaces, robotic surgery, assembling delicate parts with tight tolerance, or carrying out interactive tasks in open environments.
The MiniONE 6-axis force-torque sensor is compatible with a wide range of robot brands, such as Mecademic Robotics, Nachi Robotic Systems, Rokae and Yaskawa, as well as and gripper and hands from Robotiq, Shadow Robot and Schunk.