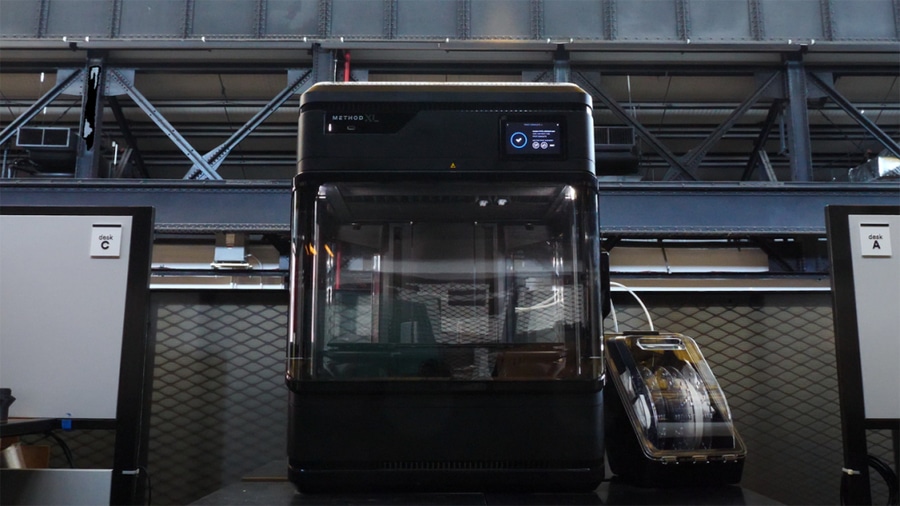 #

Product Trends
ULTIMAKER LAUNCHES NEW METHOD XL FOR AFFORDABLE INDUSTRIAL-SCALE 3D PRINTING – TECHNICAL SPECIFICATIONS AND PRICING
Desktop 3D printer manufacturer UltiMaker has announced the launch of its newest dual-extrusion FDM 3D printer, the Method XL.
Designed for engineering applications, the Method XL is said to combine the accuracy and performance required for industrial grade-production, with the size and affordability of a desktop 3D printer. An upscaled version of the Method X, this new 3D printer marks the latest addition to the company's Method series, and adds to their growing professional 3D printer portfolio.
UltiMaker CEO Nadav Goshen commented that "UltiMaker's mission is to grow the adoption of 3D printing in manufacturing. We saw that there was a lack of production-level industrial capabilities in more accessible and easy-to-use 3D printers."
"With Method XL, we believe we are bringing customers the best 3D printing solution in the market for engineering applications. Method XL is the only 3D printer in its price class with a heated chamber and heated build plate to print large and accurate parts with injection molding plastics like ABS. With the ability to print larger parts, customers can achieve greater output and efficiency, making Method XL an excellent choice for those looking to take their 3D printing to the next level," added Goshen.
Key Features of the Method XL
The Method XL boasts a substantial build volume of 305 x 305 x 320mm, the largest of any UltiMaker 3D printer, and a dimensional accuracy of ± 0.2 mm (based on UltiMaker's internal testing of selected geometries). As such, UltiMaker claims that this new 3D printer allows for a range of functional industrial-scale applications, from prototyping to end-use parts.
This new 3D printer also offers a heated build chamber, incorporating UltiMaker's patented Variable Environmental Controlled Temperature (VECT) thermal regulation system. This build chamber can reach up to 100℃, making it well suited to producing parts with durable and industrial-grade materials such as ABS-R and ABS Carbon Fiber. What's more, UltiMaker claims that the VECT system allows for the production of parts that are twice as strong on the Z-axis, and 2x more accurate across the board.
A heated build plate, capable of reaching 105℃, is also added. In combination with the heated chamber, this build plate creates a stable environment for 3D printing accurate parts, and provides further security against warping and adhesion issues.
The Method XL also offers wide-ranging 3rd-party material compatibility through its open materials platform and LABS experimental extruder. Current materials available through the LABS program include: Jabil SEBS, a soft material with rubber-like properties; Polymaker PolyMax PC, a strong, tough, and heat-resistant polycarbonate material; and LEHVOSS PAHT 9891, a carbon fiber-reinforced nylon.
RapidRinse technology is also incorporated into the Method XL. This fast-dissolving water-soluble support material is said to offer one of the fastest support removals for complex FDM parts, enabling refined surface finish on 3D printed parts. In addition, UltiMaker's CloudPrint software syncs directly to the Method XL, allowing users to upload, track and monitor print jobs remotely from a web browser.
A HEPA filter and activated carbon filter have also been added for extra safety when 3D printing indoors. Moreover, the Method XL also comes with an external moisture-controlled material case. The company claims that this case ensures peak performance from professional grade materials, aiding in the production of highly-accurate, high-quality parts.
Technical Specifications and pricing
Whilst pricing for the Method XL is yet to be announced, yet will be between $10,000 to $20,000, prospective customers can learn more about the new 3D printer, and request for a quote, on the UltiMaker website.
Printing technology Fused Deposition Modeling (FDM)
Build Volume 305 x 305 x 320mm
Printer dimensions Printer: 655 x 565 x 815mmMaterial case: 223 x 328 x 319mm
Heated chamber max temperature 100℃
Heated build plate 105℃, with removable, flexible build surface
Compatible filament diameter 1.75mm
Nozzle diameter 0.4mm
Layer resolution 100 – 400 micron
Dimensional accuracy ± 0.2 mm or ± .002 mm per mm of travel
Print head Dual extrusion print head with swappable extruders
Max extruder temperature 300℃
Supplied software CloudPrint
Supported OS MacOS, Windows
Connection WiFi, Ethernet, USB