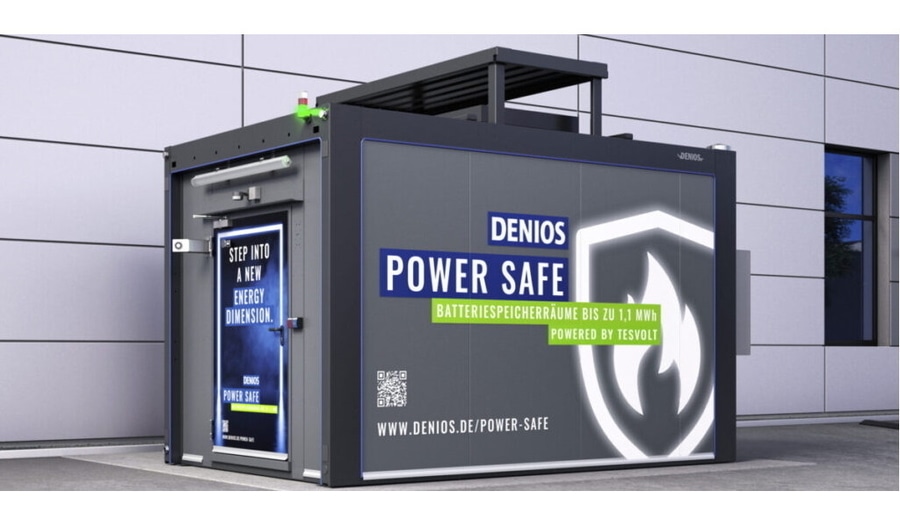 #

Industry News
The smarter E Europe: Tesvolt and Denios present battery storage in fire protection housing
The "Power Safe" concept of a all-in-one solution that combines a battery storage system and fire protection, which was already presented last September, is now also being exhibited at The smarter E Europe by storage system provider Tesvolt AG and Denios AG, according to its own description the world market leader in the field of hazardous materials storage.
Denios has had storage and test rooms for lithium-ion batteries in its product range for years. In cooperation with Tesvolt, the concept for complete solutions with battery storage units of different power and capacity in a fire protection housing was developed.
The enclosure is a double-frame construction according to fire protection standard REI 90 or REI 120: The abbreviation REI stands for bearing capacity (R), integrity (E) and thermal insulation (I), the number for the duration in minutes that the system can withstand a fire from the inside or outside. By classifying the enclosure accordingly, Tesvolt and Denios say the Power Safe can reduce approval processes. The concept meets safety requirements that apply, for example, in water protection areas or regions with a risk of forest fires. Installation without a minimum distance to buildings is also possible.
The Power Safe systems, which are available »from small-scale 80 kilowatt hours solutions to large energy storage systems with several megawatt hours, are primarily marketed by Denios, but can also be ordered from Tesvolt on request (Booth B2.110).