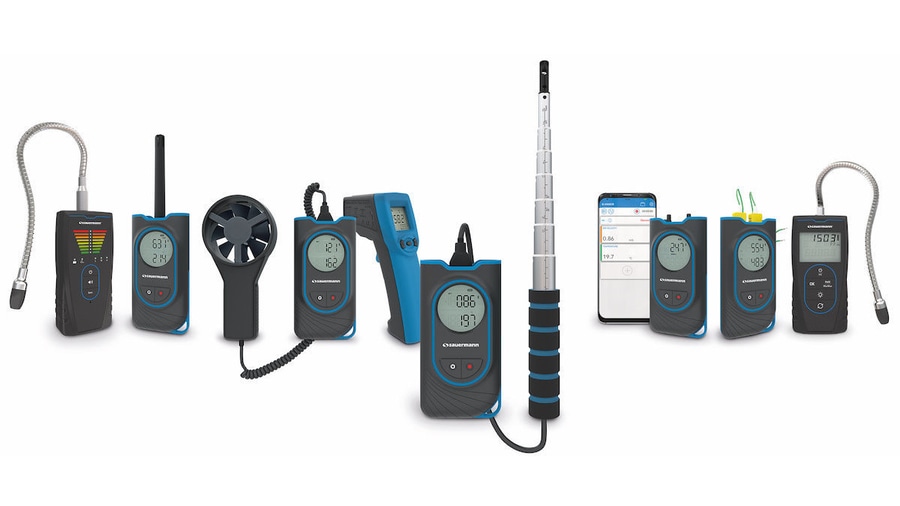 #

Product Trends
SAUERMANN EXPANDS ITS HVAC-R RANGE: Si-VH3 THERMO-ANEMOMETER AVAILABILITY
An ultra-sensitive and accurate hotwire instrument for airflow measurement, designed for maximum ergonomics.
- Very high resolution and accuracy
- Telescopic probe up to 82 cm
- Backlit LCD display
- Rear mounting magnets
BRUSSELS, BELGIUM – Sauermann is expanding its range of measuring instruments for HVACR professionals with a new hotwire thermo-anemometer designed with the same objective: to be all about simplicity!
The Si-VH3 thermo-anemometer comes with highly sensitive hotwire technology, offering an alternative way to measure air flows. As well as capturing air flow rate and velocity values in ventilation system pipes, the instrument is suitable for air-tightness testing, detecting even the tiniest air currents and taking temperature readings to identify thermal insulation defects.
The Si-VH3 connects wirelessly to the Si-HVACR Measurement MobileApp, a smartphone app developed in-house that's packed with additional features such as the ability to email measurement reports in PDF, XML or CSV format. The instrument also has a magnetic backing, so it can take readings while keeping engineers' hands free.
The remote probe of the Si-VH3 is telescopic. This enables it to vary its overall length from 18 to 82 cm (including the length of the handle). This makes the highest ducts more accessible, and the graduations on the probe allow precise control of the insertion depth into the duct for perfect measurements.
Sauermann's HVACR range is among the most reliable in its price class, covering the full spectrum of measurement requirements for HVAC engineers: temperature (Si-TT3 dual input thermometer and Si-TI3 infrared thermometer), humidity (Si-HH3 thermo-hygrometer), pressure (Si-PM3 digital differential pressure manometer), air velocity and flow rate (Si-VH3 hotwire thermo-anemometer and Si-VV3 vane thermo-anemometer), and gas leaks (Si-RD3 and Si-CD3 leak detectors).
About Sauermann
For more than 45 years, Sauermann Group has designed, manufactured and sold products and services dedicated to industrial and HVACR markets. The group specifically focuses on the detection, measurement and control of indoor air quality (IAQ). The Group has a worldwide presence, is located on three continents (Europe, Asia and North America), has 12 sites (including four production plants), and employs over 400 people.