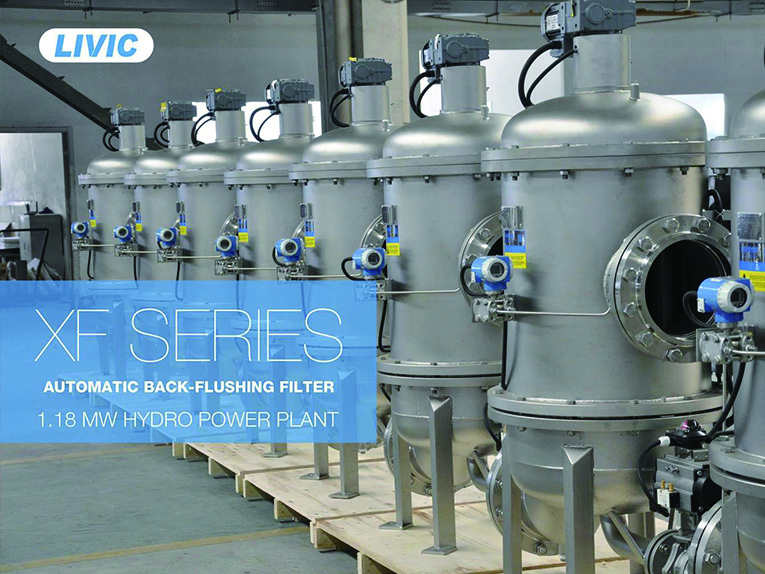 #

Product Trends
XF series Automatic Back-flushing Filters for a 1.18 MW Hydro Power Plant for the cooling system
XF series Automatic Back-flushing Filters
LIVIC supplied XF series Automatic Back-flushing Filters for a 1.18 MW Hydro Power Plant for the cooling system.
XF Series Automatic Back-flushing Filter (XF Filter for short) has metal filter cartridges inside. When filter elements are clogged, a specially designed back-flushing arm will clean the elements one by one. When filtering, the water enters the element from both ends. When self-cleaning, the top end partly opens and the water flushed out of the bottom end. XF filter has very large filter area, high flowrate, compact structure and high reliability and works better for high flowrate and dirty water filtration applications.
XF Filter can remove solid particles from water and low viscosity liquid (metal working coolant for example). XF Filter makes the fluid meet the cleanness requirement and protects the downstream key equipment from clogging, abrasing and fouling. It increases the key equipment running efficiency and extend the service life. XF Filter automatically works continuously on-line, it reduces the downtime cost, maintenance cost and labor cost. XF Filter is an ideal solution for water and low viscous liquid self-cleaning filtration. The XF filter filtration degree ranges from 50 to 2000 μm and the inlet and outlet nozzle ranges from 2" to 24".