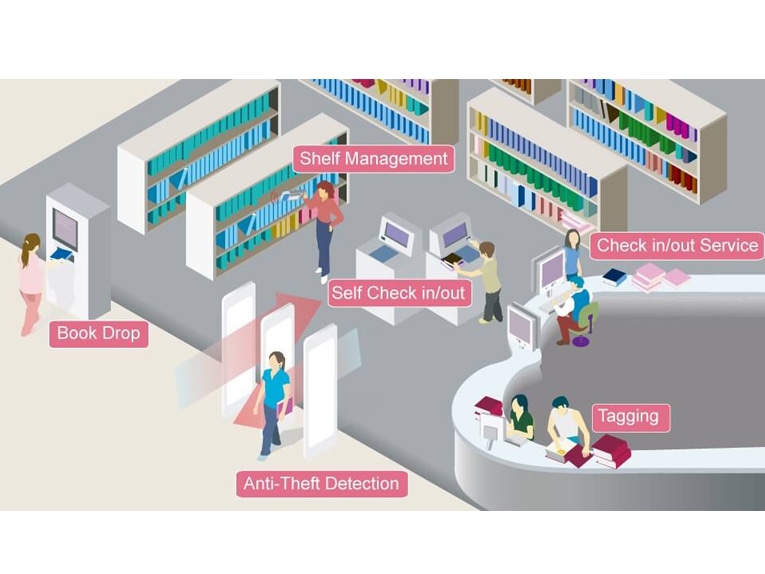 #

Industry News
RFID smart library system---a library digital management with RFID
Hardware system architecture
In the information age, due to the increasing demand for information transmission,And the library management system based on magnetic stripe and barcode technology, its traditional services are gradually showing insufficient. Therefore, it is particularly necessary for libraries to introduce high technology and change the existing service dilemma.
Although the current library has transitioned from a purely manual method in the past to a digital management mode that uses magnetic strips and barcodes as identification conditions,However, there are still many problems, which need to be properly resolved.RFID technology can not only solve many problems of modern libraries, but also provide convenient and autonomous services for library readers, which can release a large amount of labor while improving the efficiency of librarians.
RFID technology gave birth to a "smart library",this new type of library will produce many services that cannot be achieved by modern libraries.The library community based on RFID technology will have the following basic application functions:Self-service borrowing and returning, intelligent book inventory, book intelligent positioning and security and anti-theft access control.
Reader self-service replaces traditional staff's manual operations such as borrowing, returning, and renewing, It saves readers' operating time, reduces the workload of staff, and speeds up the circulation of books;Intelligent inventory not only ensures the accuracy of inventory data, but also reduces the complexity of bookshelf inventory, this largely solves the problems of large workload and high error rate of traditional manual inventory; Intelligent book positioning fulfills readers' search needs for books and facilitates staff's daily book inventory; The intelligent security anti-theft door with technology can guarantee the safety of books well.
The RFID smart library system is an engineering design that includes multiple technologies.It involves the application of a variety of hardware such as readers, wireless serial ports, and programming in multiple languages such as python and JAVA to achieve the functional requirements of the system software.
Hardware system architecture
The bookcase is composed of traditional bookcases with RFID UHF readers, Among them, the RFID tag is used as the location target of the book, and the RFID UHF reader is used to capture the RFID tag, and at the same time communicate with the host to transmit the book information. The display screen can display the status of the book in real time and query related information of the book.. The access control can identify and scan the reader card, Therefore, functions such as reader information inquiry, reader card activation, unmanned book borrowing and anti-theft alarm can be completed.
We can provide the basic hardware components of the RFID RFID smart library system, including readers, antennas, modules, access control, electronic tags and other hardware.Shenzhen Hopeland Technologies Co., Ltd, come from china.
Since 2009, we are specialized in developing, researching and manufacturing series of UHF RFID UHF readers, handheld terminals, Antennas , special type Tags, Middleware, system software, etc. Experienced R&D team and strong production center help to output quality products based on Indy R2000/PR9200 chipset, which passed CE, FCC, CCC, SRRC and series of certificates. With core advantages of long reading distance, excellent multi-tag reading, advanced anti-collision algorithm, various communication interfaces, different operation systems &SDK choices, industrial level, our devices are widely used in areas of ETC, Intelligent Parking, Airport, Smart New Retail, Smart Grid, Assets Tracking, Warehousing& Logistic, Supply Chain, Industry 4.0 and so on.
If you have any questions, please contact us immediately!