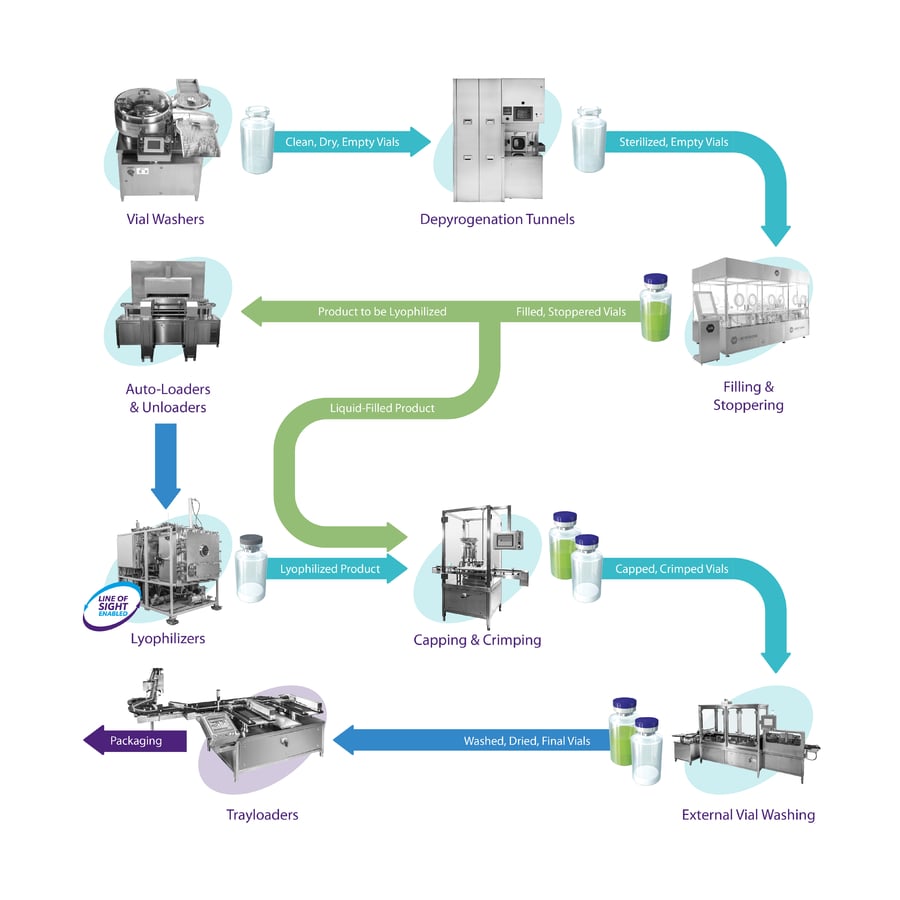 #

Product Trends
Delivering Complete Aseptic Vial Handling Solutions
SP Scientific (Warminster, PA, USA) announces the signing of a new partnership agreement with Lab-i-DOSiTECNO Pharma Technologies (Barcelona, Spain) enabling both companies to offer complete aseptic vial and syringe fill-finish lines lines for Inject
This new global partnership brings together best in class freeze drying and vial washing/sterilizing technologies from SP Scientific with the advanced and comprehensive vial and syringe filling capabilities of Lab-i-DOSiTECNO.
Oriol Casòliva, CEO of Lab-i-DOSiTECNO commented, "The geographic synergies of SP Scientific and Lab-iDosiTECNO working together will enable us to provide outstanding local support throughout North America and Europe, significantly broadening the reach of both partners".
Brian Larkin, CEO of SP Scientific added, "In addition, for those who prefer to work with a single supplier for full lines, this new partnership enables us to provide and support these customers with top quality, highly productive aseptic fill-finish line solutions".
Biopharmaceutical products are often frozen and then thawed, freeze-dried to be rehydrated when needed, or encapsulated in liquid form without being touched by the atmosphere. The container that holds the medicine during transportation through a variety of global climates, and how it is filled, is therefore critical to product integrity. SP Scientific, in partnership with Lab-i-DOSiTECNO, now leads the way in the development and manufacture of complete aseptic vial fill-finish lines offering the broadest lyophilization range available today covering cycle development, stability, pilot and clinical batch production, through to full aseptic manufacturing and commercial production batches.
For further information on complete aseptic vial handling solutions please find out more on www.spscientific.com/penntech or contact SP Scientific on +1-845-255-5000 (+44-1473-240000 in Europe).
SP Industries, Inc. (SP), is a leading global provider of state-of-the-art fill-finish drug manufacturing solutions, laboratory equipment, research, pilot and production freeze dryers, laboratory supplies and specialty glassware. SP's products support research and production across diverse end user markets including pharmaceutical, scientific, industrial, aeronautic, semiconductor and healthcare. Two flagship divisions SP Scientific and SP Scienceware offer best in class Bel-Art, FTS, Genevac, H-B Instrument, Hotpack, Hull, Maddak, PennTech, VirTis, and Wilmad-LabGlass brands, that make a difference in people's lives and together represent over 400 years of experience, quality and innovation. SP Industries is headquartered in Warminster, Pennsylvania with production facilities in multiple states in the USA and Europe. For more information on SP, visit www.spindustries.com
SP Scientific is a leading manufacturer of freeze dryers/lyophilizers, aseptic vial washing and tray loading machines, temperature control/thermal management, centrifugal evaporators and concentrators, glassware washers, and controlled environmental rooms and chambers. The company sells its products under well-known brands including VirTis, Hull, PennTech, FTS Systems, Genevac and Hotpack. SP Scientific has ISO 9001:2015 registered production facilities in the USA and Europe. www.spscientific.com
For over 15 years, Lab-i-DOSiTECNO has designed, built and provided top quality sterile filling systems for the pharmaceutical and cosmetic industries. Achieving a high level of specialization, in which engineering, creativity and innovation are bought together to deliver customers the best customized solution. Today Lab-iDosiTECNO systems are used by leading pharmaceutical companies worldwide to facilitate new products and help optimize aseptic production. www.i-dositecno.com/en