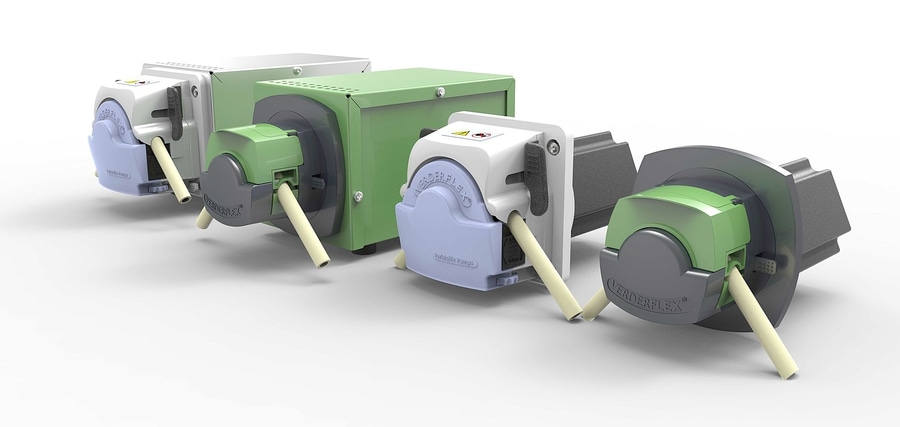 #

Product Trends
Verderflex is proud to launch its latest innovation in peristaltic pump technology, Steptronic.
The units are highly adaptable, offering a wide range of flow rates (0.1 to 1310 ml/min) with a class leading 4096:1 turn down ratio and speeds in excess of 400 RPM. Steptronic has multiple AC & DC input power options and can be controlled remotely by digital, analogue and HMI signals including 4-20mA and 0-10V.
Steptronic has a wide range of accessories and options including IP66 rating, special casings, remote power packs, foot switches and the option for factory programmed custom configured speed, torque and ramp settings.
Head options include the new VF "Mini-Load", as well as the proven high performance Verderflex "EZ" pump heads. The Mini-Load is very sleek and compact in size with a number of features including the latest 4 roller design, unique tube clamp inserts, dual stackable/multiple pump head facility all with quick tube release functionality.
The Steptronic is the ideal cost effective single source solution giving all users from design engineers to large OEM manufactures maximised performance and reliability. Steptronic can help you by reducing downtime and eliminating the design uncertainty and risks associated with the separate specification of pumps, drives and control systems.
Typical life science applications include the bio-decontamination systems from dental to endoscopy equipment, as well as pharmaceutical equipment including bioreactors. We understand that the accuracy of dosage and reliability is critical for example in methadone dispensing systems, chlorine monitoring applications, water treatment, bench-top laboratory cross-flow filtration environments and industrial lapping machinery.