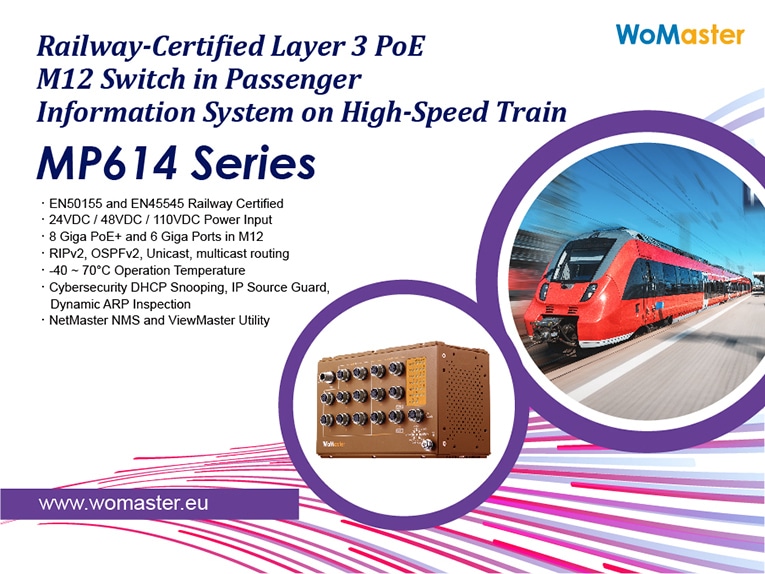 #

Product Trends
WoMaster Introduces MP614: The Leading Edge M12 Full Gigabit Layer 3 Routing PoE Switch for Secured On Board Networks in High Speed Trains
WoMaster Introduces MP614: The Leading Edge M12 Full Gigabit Layer 3 Routing PoE Switch for Secured On Board Networks in High Speed Trains
The MP614 M12 full Gigabit Layer 3 Routing PoE switch, specifically designed for Layer 3 controlling networks in rail public transport, sets new standards in performance, reliability, and security for on-board networking solutions in high-speed trains.
The MP614 has been meticulously engineered to meet the stringent requirements of rail transport networks, earning it prestigious railway certificates, including EN50155 and EN45545. This makes it the ultimate choice for rail operators seeking robust and secure PoE switches that deliver exceptional performance.
Key Features:
1. Rugged Design for Harsh Environments: Equipped with 14 rugged Gigabit M12 ports, the MP614 is built to withstand the demanding conditions of rail transport networks. Its robust construction ensures uninterrupted operation even in challenging environments.
2. Intelligent PoE/PoE+ and Link Bypass Function: Of the 14 ports, 8 provide intelligent PoE/PoE+ capabilities, while 2 support link bypass functionality. This ensures reliable and sustainable connectivity, even in the event of device or power faults.
3. Versatile Power Input Options: The MP614 offers wide power input options, including a 24VDC booster and 110VDC high voltage support. This adaptability allows the switch to cater to the unique power requirements of any rail transport network.
4. Advanced Layer 3 Routing Protocols: The MP614 supports advanced Layer 3 routing protocols, including IP/VLAN routing, RIP, OSPF, and VRRP. This seamless integration with existing infrastructure enables efficient data transfer and superior network performance.
5. Ultra-Speed Connectivity: With 14 Gigabit ports, the MP614 ensures high-speed and unrestricted data transfer within rail transport networks. This eliminates bottlenecks and guarantees reliable communication across the entire network.
6. Comprehensive Cyber Security Design: The MP614 incorporates a comprehensive cyber security design, protecting rail transport networks from external threats and unauthorized access. This robust security framework ensures the integrity and confidentiality of sensitive data.
Main Application:
The MP614 plays a critical role in ensuring the smooth operation of various systems within high-speed trains. It serves as the backbone for crucial functions such as the passenger information system, train-to-ground communication system, CCTV, the driver's HMI touch screen, and parts of the diagnostic system. These essential applications depend on the reliability and performance of the MP614 to deliver real-time data and enable seamless communication.
In conclusion, the WoMaster MP614 sets new standards for on-board networking in high-speed trains. With its rugged design, railway certifications, versatile power input options, advanced routing protocols, ultra-speed connectivity, and comprehensive cyber security framework, the MP614 provides an unrivaled solution for Layer 3 controlling networks in rail public transport.