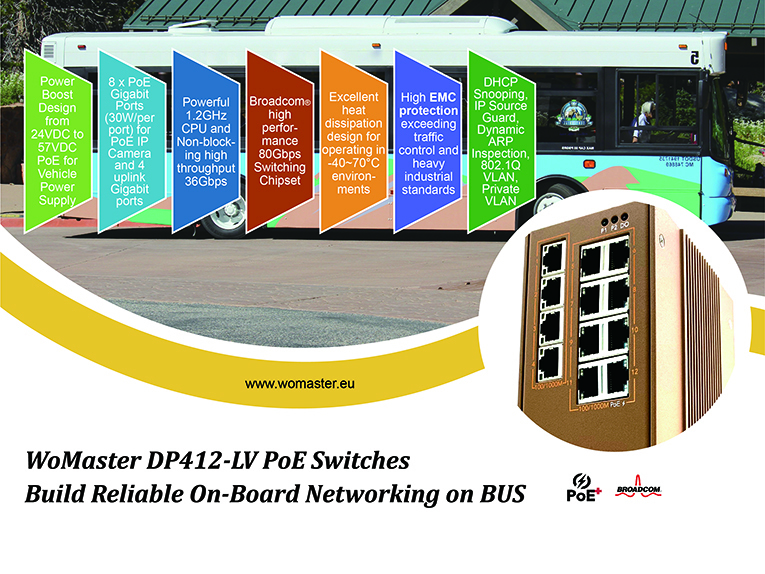 #

Product Trends
WoMaster Introduces DP412-LV Managed PoE Switch for Reliable On-Board Networking
WoMaster Introduces DP412-LV Managed PoE Switch for Reliable On-Board Networking
The WoMaster DP412-LV PoE switch provided an ideal solution for the bus company's requirements. The switch features Power Boost Design from 24VDC to 57VDC PoE, which allowed the switch to power up to 8 PoE Gigabit Ports (30W/per port) for PoE IP Cameras and 4 uplink Gigabit ports. The switch also boasts a powerful 1.2GHz CPU and non-blocking high throughput 12Gbps, ensuring fast and reliable network connectivity.
Additionally, the DP412-LV switch's excellent heat dissipation design allowed it to operate in extreme temperatures ranging from -40~70C, ensuring reliable operation in harsh environmental conditions. The switch also features high EMC protection exceeding traffic control and heavy industrial standards, ensuring stable and secure network connectivity onboard the buses.
Finally, the DP412-LV switch provided advanced security features, including DHCP Snooping, IP Source Guard, Dynamic ARP Inspection, 802.1Q VLAN, Private VLAN, and Advanced Port Security, ensuring secure and optimized network connectivity onboard the buses.