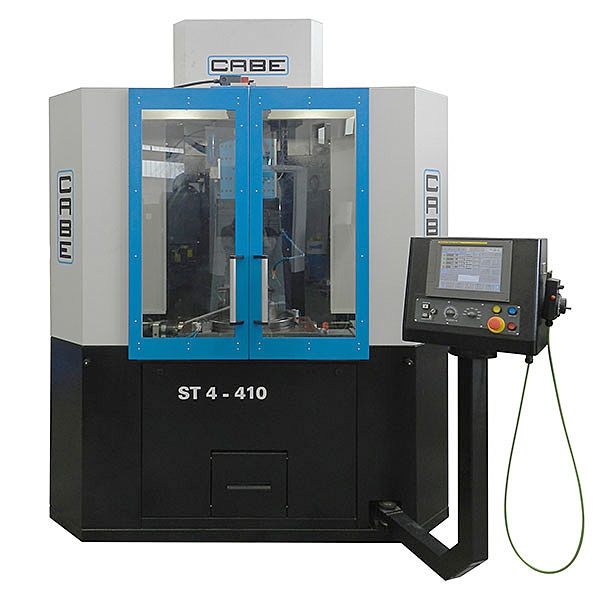 #

Product Trends
Innovative CNC Slotting Machine - ST4 CNC
INNOVATIVE AND TECHNOLOGICAL
The newest Cabe model promises the implementation of ground-breaking articulated machining. With great simplicity in its design, also supported by a constant cutting speed, the slotting machine ST4 CNC allows the execution of very complex figures, until now not impossible to realize using the traditional models. The software includes functionalities to realize decreasing progress, and chamfering of the corners, tangential slots.
INNOVATIVE PROCESSES
A breakthrough technology to achieve superior performances and new and unique processing:
Conical slots obtained with the interpolation of 2 axes (Z and X or Y).
Helical slots obtained with the interpolation of 2 axes (Z and C).
Blind slots without the discharge hole: a specific software program allows processes impossible with other slotting machines, with discharge inclinations of up to 45°.
Maag cutting method.
CONTROLLED CUTTING AXIS
Four axes controlled by brushless motors ensure:
Quick set-up of the machine.
Constant cutting rate thanks to the elimination of the traditional rod-crank system for the movement of the head.
Thanks to the interpolation of the axes, it is not necessary to incline the head to realize conical slots.
TOOL HOLDER BLOCK
The innovative tool holder with high repeatability guarantees that the tools are always at the centre of the hole. Combined with the tool holder, the "VCT system", virtual tool change, that allows two processes with different tools without having to stop the machine to make the change. Both are Cabe patents.
FANUC CONTROL MOTOR & CONTROL PANEL
The machine is equipped with Fanuc controls and motors. Our software department develops in collaboration with Fanuc solutions that permit the programming and perfect realization also of very complex slots.
TAILOR-MADE MACHINES
The ST4 CNC can be personalized in order to fit any particular need. Our team of engineers is always ready to find the right solution to satisfy every request, to design and build customized products.