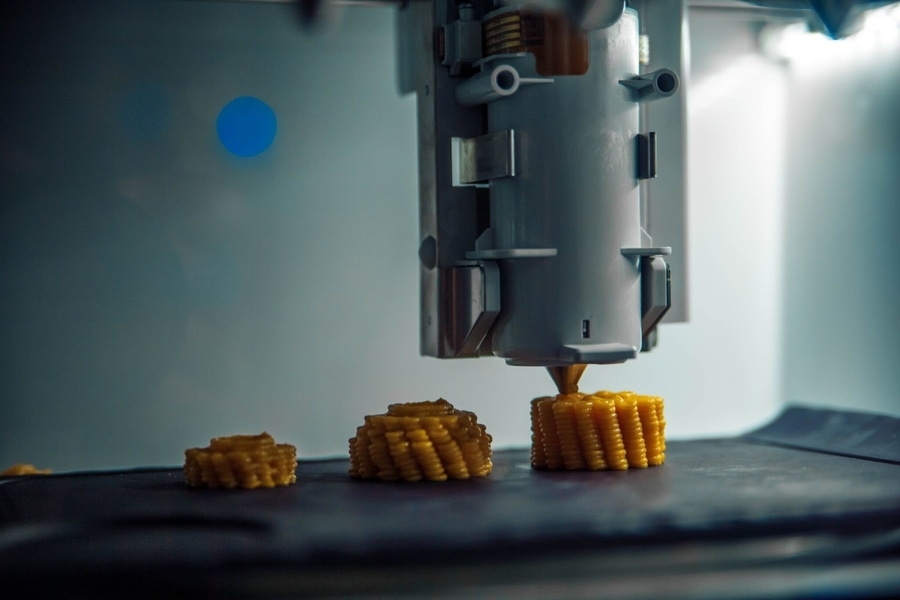 #

Product Trends
New Technology is Changing Food Growing Methods
Fast developments in technology have now made it possible for companies to produce food using a number of alternative methods. By 2050 there will be nine billion people on the earth to feed, but as the overall area of farmland available to grow crops on decreases, new ways of producing food are being explored.
As consumers' eating behaviors are also changing radically, demand for food developed by a variety of production methods has intensified.
As a result, a number of companies have emerged onto the market, each with their own range of foods and food production methods for the modern consumer. Let's take a tour.
3D Food
Lynette Kucsma is the co-founder of Barcelona-based Natural Machines which was set up in 2012 to create innovative kitchen solutions to help people make fresh meals and snacks, and to lower food waste.
"Our first released product is Foodini, which is a 3D food printing kitchen appliance that enables you to personalize food, eat healthier, improve kitchen efficiency and lower food waste. The premise of all 3D printers is the user becomes the manufacturer. The same concept applies with Foodini. Foodini works with food capsules that end users can fill with their own fresh ingredients."
She told us that we are probably already eating 3D printed food, if we eat anything from a food manufacturer, like packaged food you buy in a supermarket.
"A food manufacturer takes food, pushes it through machines, shapes it and forms it. We've taken that same concept and shrunk the large food manufacturing facility down to a stylish appliance for your kitchen counter. But the big difference is you use your own fresh ingredients."
Natural Machines is experiencing significant sales growth for its novel food production method and Lynette is very confident the 3D printer will become commonplace in many kitchens around the world. She says the company is focused on the professional market (B2B) at the moment. They are currently selling worldwide to restaurants; food service providers; food manufacturers; education and research institutes; hospitals and nutrition and health companies.
"In 10-15 years, we believe that 3D food will be a common kitchen appliance in all kitchens, both home and professional, similar to how an oven or a microwave are common appliances today. With Foodini, all people will have an easier time preparing their own fresh foods."
Take a look at what some Chefs have cooked with Foodini
Indoor Farming
There are other companies producing food via new methods such as AeroFarms based in the United States that operates a number of vertical farms close to highly populated areas.
AeroFarms says it is the commercial leader in fully-controlled indoor vertical farming with 390 times greater productivity per square foot annually compared to traditional field farming while using 95% less water and zero pesticides.
A range of smart technologies are used to grow a variety of greens under the Dream Greens brand such as sweet baby kale, peppery arugula, spicy ruby streaks mustard greens and crisp baby watercress.
Applying the latest sensor technology and data science, with tools such as machine vision and AI, the company is growing healthy, tasty produce all year round.
Shrimps Made from Seaweed
US company New Wave Foods is aiming to save the seas with its plant-based shrimp production.
Each year, Americans consume 1.4 billion pounds of shrimp, and in order to help preserve sea life, the US company was set up to produce a plant-based shrimp alternative made from seaweed.
With the benefits of not containing any shellfish or soy allergens, New Wave Shrimp has the texture and bite of shrimp and gets its flavor from natural plant extracts that offer briny, lightly savory and subtly sweet notes that actually taste like shrimp.
Regenerative Ocean Farming
Another company working on the seafood theme is Greenwave who are producing a range of sustainable seaweeds and shellfish that require zero input.
GreenWave says its polyculture farming system is the most sustainable form of food production on the planet, while also sequestering carbon and rebuilding reef ecosystems.
Using what it calls "regenerative ocean farming," Greenwave's farms sit vertically below the ocean's surface and produce high yields with a small footprint.
Regenerative ocean farming has been identified as a key solution to climate change and has the power to sequester carbon on land and in the sea, reduce methane production in livestock, rebuild marine ecosystems, enrich soil and address the global plastics problem.