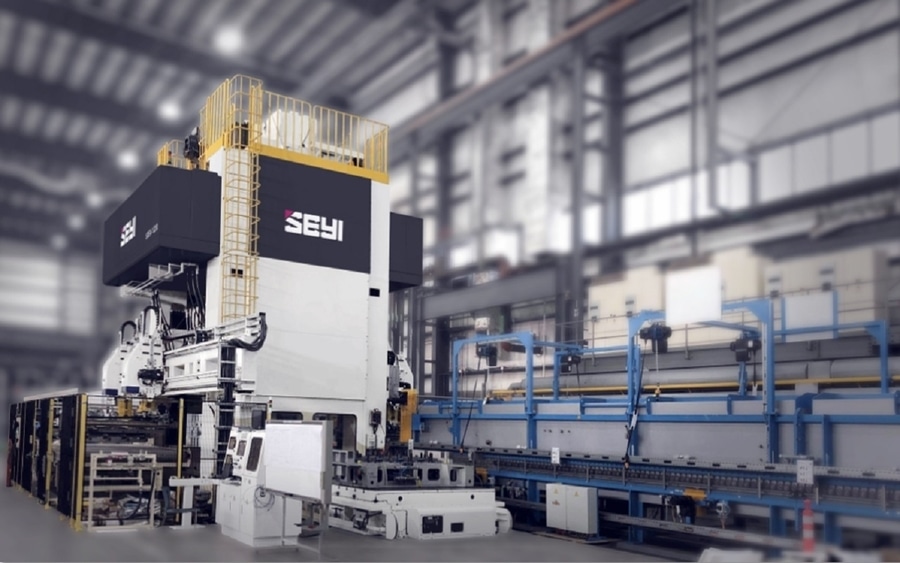 #

Product Trends
SPONSORED. SEYI Servo Press Optimizes Stamping Process (by SEYI)
In this article, SEYI would like to introduce its powerful servo presses and the features, which help metal formers conquer today's difficult-to-form materials. Several slide motions will be highlighted to deal with different stamping conditions.
By Wendy Liou, Sales Director, SEYI Presses Europe GmbH, sales@seyi.com.tw
Electric cars and the lightweight trend supporting CO2 emission reduction targets drive the renovation of vehicle manufacturing technology. Meanwhile, in order to improve vehicle safety and reduce fuel consumption, the use of high-strength steel and new materials for door beams, roof rails, body pillars and bumpers are increasing significantly. Automakers are looking for solutions to perfectly form these parts made of AHSS, aluminum or composite materials. Traditional presses cannot meet these customers' requirements on high formability and high productivity at the same time. Due to the free movement of the slide, servo presses allow users to set up stamping curves flexibly based on the condition of materials, tooling design and parts geometry. From Pendulum Motion, Hold Motion, Vibration Motion, to Link Motion and Crank Motion, SEYI's servo presses can fulfill different demands.
SEYI's servo motor features low revolution speed, high torque, quick acceleration/deceleration rates and low power consumption. In terms of torque, under the same specification and the same size compared with competitors, the torque of SEYI's is the largest. Thanks to the powerful servo motor and control system, the press slide can run at any position at different speeds, and the parameters of different slide motions can be easily set up on the user-friendly HMI interface. For instance, the slide can move down slowly but up rapidly to cope with the material flow in order to prevent the crack of stamped parts. Post-processing tasks such as in-die piercing may be done at the same time as the overall efficiency enhances.
SEYI offers 7 default motions and 1 free motion in the servo control system, here we introduce you to some motions which are used frequently.
Vibration motion: possibility for reducing the stages of the stamping process
The motion can fulfill the requirements of the deep drawing process and at the same time achieve high accuracy and high quality. The main benefit is that it provides a possibility to reduce the stamping stages for deep drawn parts, leading to higher productivity. This motion is quite suitable for the tapped hole production.
Hold motion: a satisfactory alternative for hot stamping process
Hold motion on servo press is suitable for advanced materials, especially high-strength steel a since the slide can dwell at B.D.C for an extended time and lessen the spring back effect. Compared to the traditional stamping process, the production rate has increased more than 20%, running costs has decreased more than 50%, and power consumption can even be saved more than 70%.
Half motion: double the throughput
By taking advantage of the servo press and the servo motor, the stamping stroke can be shortened. Compared to traditional presses, SEYI servo presses can eliminate unnecessary press movement, double the production output, and save up to 50% on electrical power consumption while running progressive dies with half motion under some conditions.
Coining motion: suitable for difficult-to-form materials
This motion is especially suitable for high-strength steel. The springback effect can be lessened by hitting the material several times at B.D.C.
Link motion: programmable and optimized
We can see this motion used frequently in the auto industry, such as joint parts for trucks. The benefit is that while the production output increases, reverse tonnage decreases, formability, and tool wear rate improves.
SEYI servo presses series are suitable for the industries such as automobiles, consumer electronics and household appliances. Various motions can fulfill customers' different demands and applications. For more details, please visit SEYI's official website: https://www.seyi.com/en-global/product/index/servo_press_en