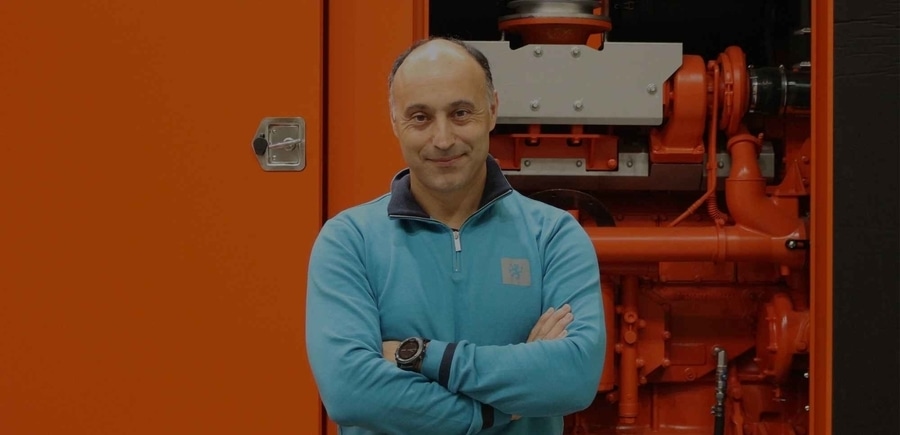 #

People
Grupel has a new Head of Engineering and Innovation
Júlio Tomé joins the team and promises to focus on creating value and benefits for customers and the market
With decades of experience in the power generation sector, Júlio Tomé joins our team, taking the helm of the Engineering and Product Development Department and bringing an important technical know-how and a lot of motivation, which will lead to the continuous innovation of our products and services facing a constantly changing market.
From technical support to product development, marketing and sales, there are many areas where Júlio Tomé, an electrical engineer usually surrounded by mechanics, has taken part of during his 23 years of dedication to the world of power generators in the Atlas Copco Group.
There, he was part of several projects, including the development of a Rental Range for the global market, and other ranges of generator sets and lighting towers for various regions around the world, some of them distinguished and awarded. More recently, he worked more specifically on creating solutions for the power rental market for special applications (off-shore, events, large projects, among others).
In March 2023, he joined Grupel, where he accepted the challenge of leading the Engineering and Innovation Team and where he promises to create value with products that generate benefit for customers and, therefore, for the company itself. We talked to him to understand what motivates him and what his expectations are regarding this new experience.
What are your expectations for your work at Grupel?
My expectation is the creation of value for GRUPEL, for the region… for us! I hope a little patriotism is not too much.
As an active member in the genset market, I have been watching the development of GRUPEL with a certain curiosity and with a mix of pride and affection, since it is a Portuguese company and very close to where I live with my family.
I think it was "written in the stars" that I would end up here. I am a specialist in this business, in these products, I helped create value in other countries, mainly in Zaragoza (Spain). But I had to catch a plane to be with my colleagues, while GRUPEL was so close!
How do you hope to contribute to the growth of the brand?
As I mentioned before, my job is to create value. To do this it is necessary to make products that generate benefit for our customers that, consequently, can also flow naturally to us.
I have some ideas in mind, innovative products that, with time, I hope to develop and launch at GRUPEL. Before that, we need to strengthen the engineering team, improve the methodology, and create a more innovation-oriented identity. I will obviously use all the experience and lessons learned over the years working in a larger, more complex, multinational organization with a strong innovation component in its DNA.
What are the challenges of the power generator sector today?
We have some important challenges, but the main one is really decarbonization.
The market trend is towards lower CO2 emission or neutral solutions, which leads to a major change in the diesel engine market. Many of the current manufacturers will be forced to cease or drastically reduce their manufacturing and, in the meantime, adopt other replacement technologies.
The impact for genset OEMs is uncertain, but it will be overwhelming. We may even continue for some time with traditional internal combustion engines with HVO (Hydrotreated Vegetable Oil), which is a CO2 neutral solution. In the meantime, we can expect the adoption of H2 or derivatives, and consequent use of power electronics, as well as hybrid systems with energy storage.
We all know that standby generators usually do not work many hours per year, and therefore have a low impact in terms of overall emissions. We must not forget, however, that in the event of a power grid disruption we will have a disastrous impact on the quality of life in many cities. In London, for example, if electricity were to go out for more than 24 hours, they would have to evacuate the city due to poor air quality.
How can Grupel's digital transformation facilitate in meeting these challenges?
Beyond the new products we want and will have, digital transformation is potentially the biggest growth driver for GRUPEL.
I should add that I was delighted with the new configurator, its potential and scope. We can reach to more customers, more markets, and not least, simplify the value chain with consequent increased competitiveness and profitability. I am not aware of another player in this market that offers the possibility to configure and buy online. People already know and are used to using this kind of tools… like with cars, for example. We are, therefore, one step ahead.
I also highlight the importance of digitalization in the deepening of knowledge and exchange of information with the market, the access to new ideas and technologies, the attraction of more and better talent to our team. Putting everything together, we will be better prepared to face this new wave of opportunities and challenges that the energy transition will bring us.