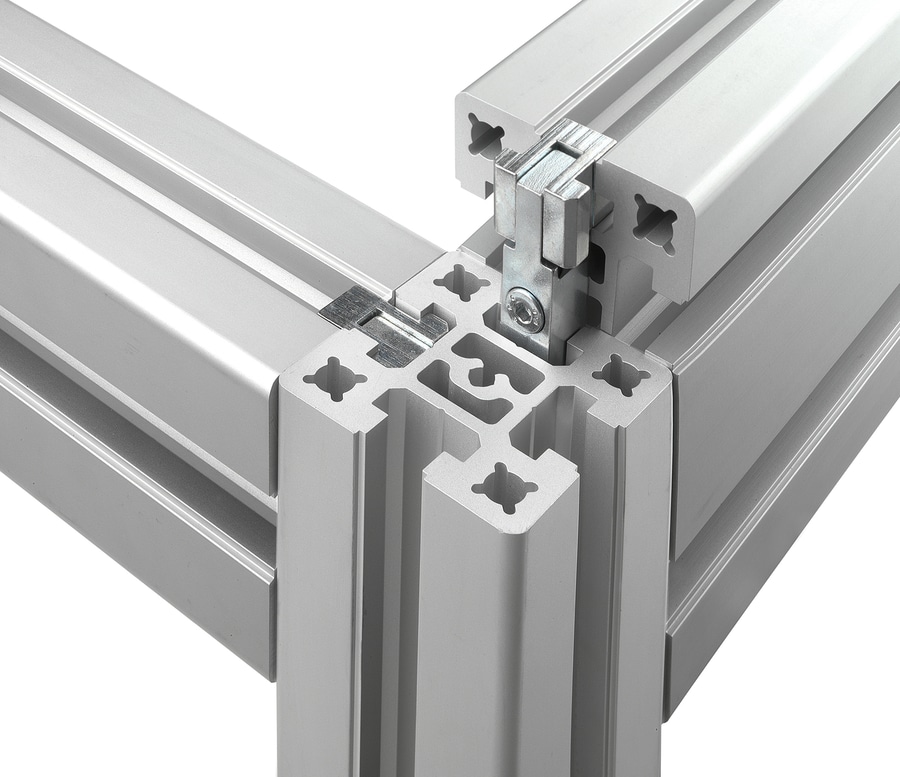 #

Product Trends
Aluminium heavy-duty profiles – light-weight, flexible, robust
Aluminium heavy-duty profiles – steel and welding are things of the past.
Heavy-duty aluminium profiles also guarantee stable overall constructions but are still extremely light-weight at the same time. The heavy-duty profiles of the BLOCAN® series from RK Rose+Krieger also excel with special connecting technology which has numerous advantages over conventional welded connections. Thus they provide the highest degree of flexibility for constructional solutions – in particular for portal technology. A further advantage is the very good value for money.
BLOCAN® heavy-duty profiles are characterised by high bending and torsional stiffness with a comparatively load net weight. The BLOCAN® D profile in size 160x320, for example, is a match for an IPE 360 double T-girder – even with smaller dimensions and weight savings of over 35% less. This allows engineers to implement large portal systems and machine frames in lightweight construction which previously were only possible with steel structures.
Cut to size, assemble – it's as simple as that!
For the assembly of the heavy-duty aluminium profiles the profile assembly technology experts from Minden developed special connection elements. These RK thrust connectors hold the heavy-duty profiles together using pressure and a very robust screw connection which can be unfastened at any time. In combination with the profile slot, with its width of 18 millimetres, they make setting up the respective construction much simpler: The profiles are simply ordered in the desired length or cut to length, and then assembled with thrust connectors without any further processing. In the process, the position of the profiles can be changed easily as required. The connection nonetheless withstands even dynamic forces effortlessly.
Given that, compared with conventional welded connections, the work required for assembly and processing is minimal, assembly costs are accordingly low. Another advantage: Structures made from BLOCAN® heavy-duty profiles can be dismantled simply in segments. This considerably reduces the work required for transportation and even allows you to rebuild in another location or with another design.
The BLOCAN® profile assembly system from RK Rose+Krieger comprises heavy-duty profiles in the sizes D-80x80, D-80x160 and D-80x240, and D-160x160, D-160x240 and D-160x320. They can be combined with each other and all other profile variants of the BLOCAN® profile system and all linear technology products from RK Rose+Krieger – for an almost infinite number of application options.