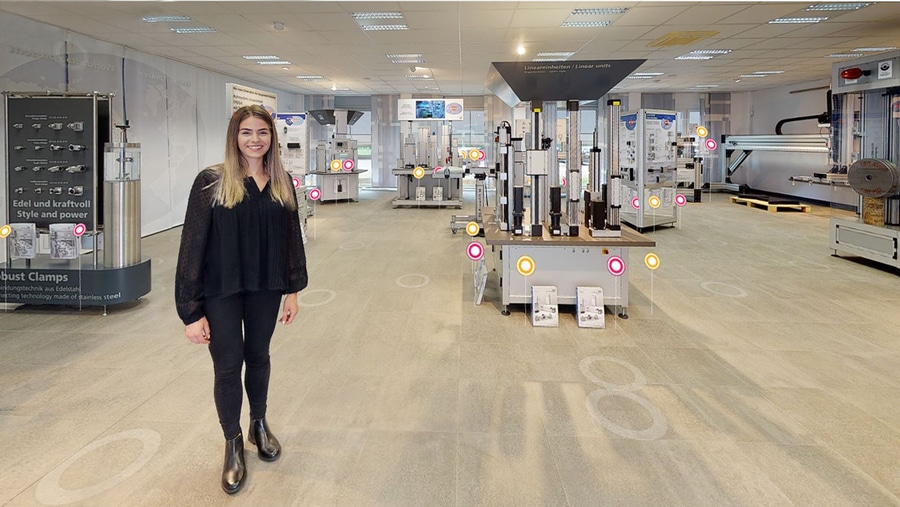 #

Trade Shows & Events
RK Rose+Krieger brings the trade fair to your screen
Virtual trade fair tour
During the coronavirus crisis public events are prohibited until further notice – numerous trade fairs have therefore been cancelled or postponed. True to the motto "If interested parties can't visit the trade fair, the trade fair will just have to come to them", RK Rose+Krieger is implementing a virtual trade fair tour around its exhibits of linear, profile and connecting technology. Clickable text and video information provide more detailed explanations of each product.
The personal contact and exchange at a trade fair no doubt cannot be replaced by a virtual tour. Yet we do not want to have to go without presenting our product portfolio and our new items to you, even in times when we are all working from home and are subject to travel restrictions. That's why we have converted our in-house showroom into two thematically separate trade fair areas around which the visitor can move intuitively by mouse click. One area is fitted out with trade fair exhibits from the linear technology field, the other is dedicated to profile and connection technology.
Visitors can access these areas virtually via the internet, use a 360° pan to get an overview and even get really close up to the individual exhibits. Clicking again on marked information points opens text windows with initial information and further links to catalogue pages and video clips.