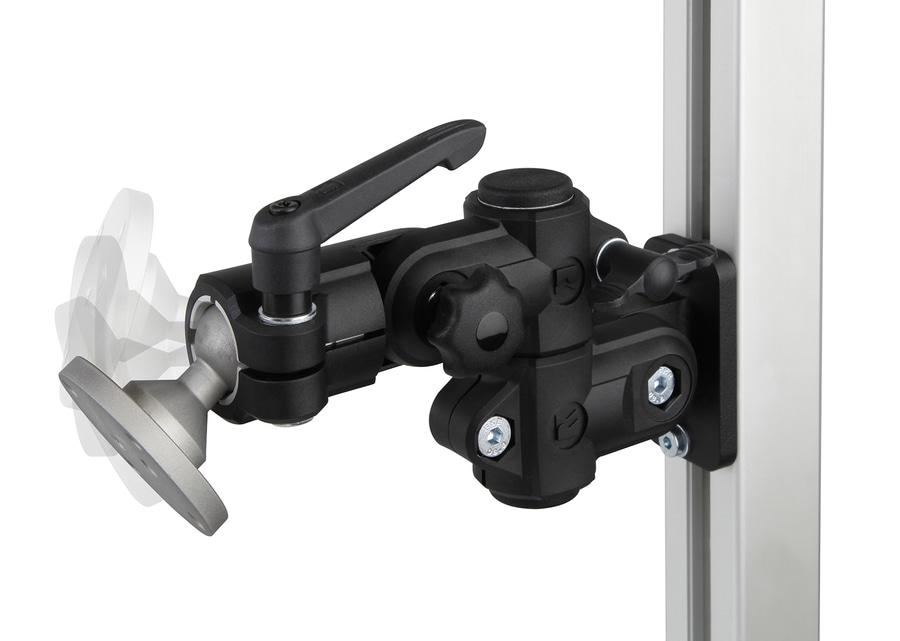 #

Product Trends
NEW: RK Monitor mounting with ball joint – high-strength, making it suitable for industrial applications
RK Rose+Krieger has addressed this issue and developed a flexible and adaptable monitor mounting that meets the requirements of industry: The RK monitor mounting is designed for monitors, control panels and touch screens up to 25 kg and offers many degrees of freedom. The screen can be turned, tilted and swivelled and – if fixed to a round or square tube system – also height-adjusted. No tools required! All degrees of freedom can be adjusted separately via lever/handwheel bolts. With tilt-adjustment in 15° increments and vibration-proof locking.
Monitor attachment via VESA or universal Mount
One great advantage of the brackets is the flexibility they offer for device fitting dimensions and for installation options. The user can mount the screens/control panels via a VESA Standard 75/100 connecting plate – in other words, with a 75 x 75 mm or 100 x 100 mm mounting hole pattern – or a round aluminium universal mounting surface. Thus, in principle, just about any panel can easily be connected up without special components. The monitor mounting can be mounted in the slot of any aluminium profile system using slot stones, or on any other tube, profile or any wall. The screws and slots stones required for installation on an RK profile system are included in the scope of delivery. The RK monitor mounting is made of an optimised mix of materials: The wall mount and connecting plates are made of aluminium, the tube connectors of high-strength plastic. Since the construction consists of optimised RK standard products, the monitor mounting, including all installation options, is economical and available in no time.
NEW: RK Monitor mounting with ball Joint
As well as the RK monitor mounting in the vibration-proof and lockable version with tilt adjustment in 15° increments for monitors of up to 25 kg (static), RK Rose+Krieger now also offers a monitor mounting with ball joint. This version can withstand loads weighing up to 10 kg (static) and offers even more degrees of freedom. Thanks to a special coating on the ball joint and a clamping mechanism registered as a utility model, this mounting version guarantees the static friction required for reliable processes.