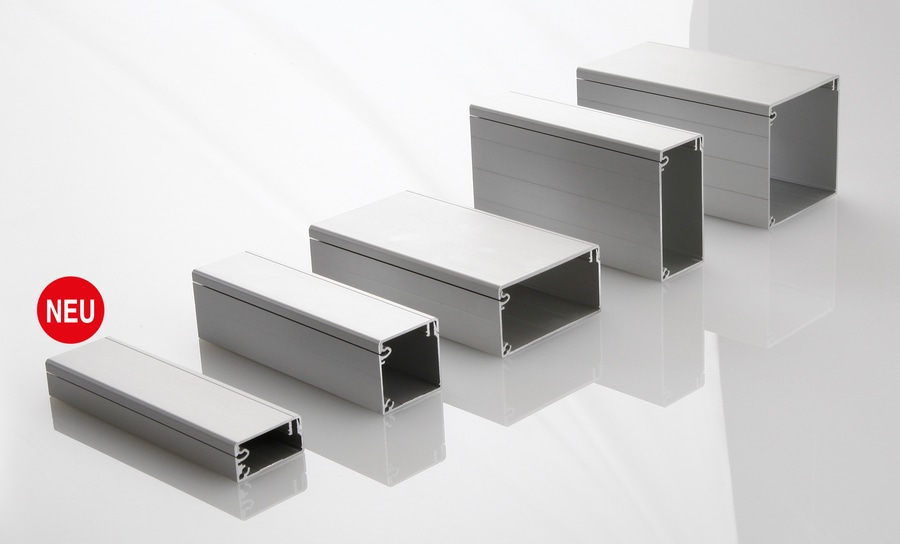 #

Industry News
Aluminium cable channel with many useful features now also available in size 40x20
The new small-sized model rounds off the cable channel range
The BLOCAN® cable channel system made of anodised aluminium impresses with its appealing design and numerous sophisticated details, which offer the user considerable added value. RK Rose+Krieger complements its product portfolio with the new KK-40x20 model and now offers cable channels in a total of five different cross-sections (HxW: 80x80, 80x40, 40x80, 40x40 and 40x20) as six-metre-long bars or, upon request, as customised cut-to-length profiles as well.
The BLOCAN® cable channel system's range of design details make work significantly easier for the user: the cover is easy to open – either lifted vertically upwards or pivoted open over the hinge. Insertable spring strips hold it in position. Flexible and optional assembly/separating strips facilitate both installation and organisation of cables in the cable channel. They hold cables in place and prevent cables that have already been laid from falling out, especially during overhead assembly.
The cable channel profiles can be either wall-mounted or attached directly to BLOCAN® profiles. For easy, machining-free attachment of BLOCAN®-series aluminium profiles, RK Rose+Krieger offers cable channels with 200-mm-spaced perforations (Ø 12 mm) on request.