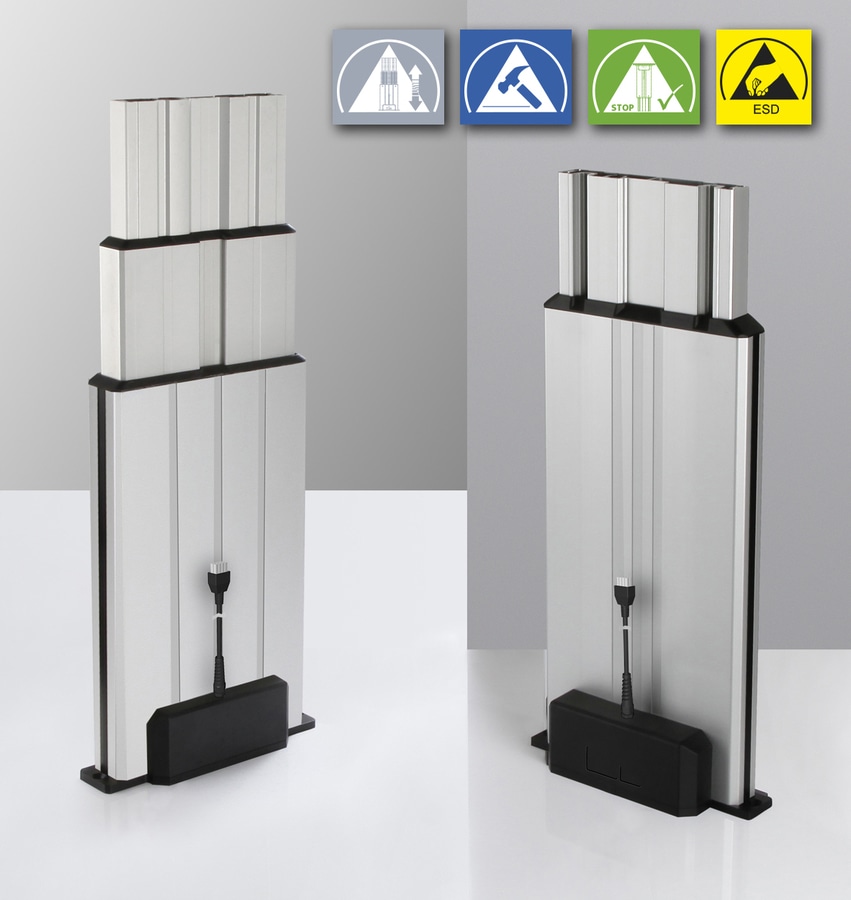 #

Product Trends
Multilift II product line – the perfect lifting column for every application
Multilift II – the perfect lifting column for every application
The elegant and robust electric lifting columns of the Multilift II range from RK Rose+Krieger are a great example of how customised special versions of devices can actually become standard products for specific areas of application.
Multilift II impact – Integrated damping absorbs high impact forces:
The Multilift II impact lifting column from RK Rose+Krieger demonstrates perfectly that electrically adjustable lifting columns can not only look good and operate reliably under normal conditions, but can also be extremely robust. The slim electric height adjustment system has an integrated damping system that is able to absorb high impact forces, such as those that occur when unloading a workpiece. This means that the damping system – currently the only one of its kind on the market – prevents any overload due to strong dynamic stresses, making the Multilift II impact particularly suited for the height adjustment of industrial assembly tables.
Multilift II telescope – unique installation height/stroke ratio:
The telescopic version of the Multilift II – the Multilift II telescope – is RK Rose+Krieger's response to greater demands from customers for two-legged bench systems. The three-stage lifting column conforms to the ergonomics standard for workbenches (DIN EN 527-1:2011) and features an optimum height/stroke length ratio: the installation dimension in a retracted position is just 560 mm. The maximum stroke is 650 mm with a maximum lifting force of up to 3000 N per drive. This is currently the only one this type of lifting column on the market. The maximum extension of 1,210 mm conforms to the applicable standards for workplace ergonomics in many applications for assembly workstations, equipment, control rooms, and much more besides. The contact between the profiles – important for stability – has been sized perfectly despite the stroke length and permits high bending moments for both static and dynamic loading.
Multilift II ESD – discharging voltages via the lifting column:
In the electronics and semiconductor manufacturing industry, electrostatic discharges can impair the function of components being assembled, or even destroy them. Special ESD assembly workstations are equipped with an antistatic finishing that prevents this from occurring. Until now, lifting columns for the height adjustment of workstations have prevented the safe dissipation of electrostatic discharges by interrupting the electric connection between the table and the foot frame. However, with the Multilift II ESD, RK Rose+Krieger has developed a patented electric height adjustment system that is able to dissipate voltages.
Multilift II safety – turning things on their head:
The Multilift II safety is yet another version of the Multilift II lifting column that is in the pipeline. RK Rose+Krieger has developed this column specially for overhead applications in media technology. Its uses include the correct positioning of projectors and monitors, whereby the lifting column is mounted upside down on the ceiling. A proprietary developed internal safety system prevents any accidental extension of the lifting column.