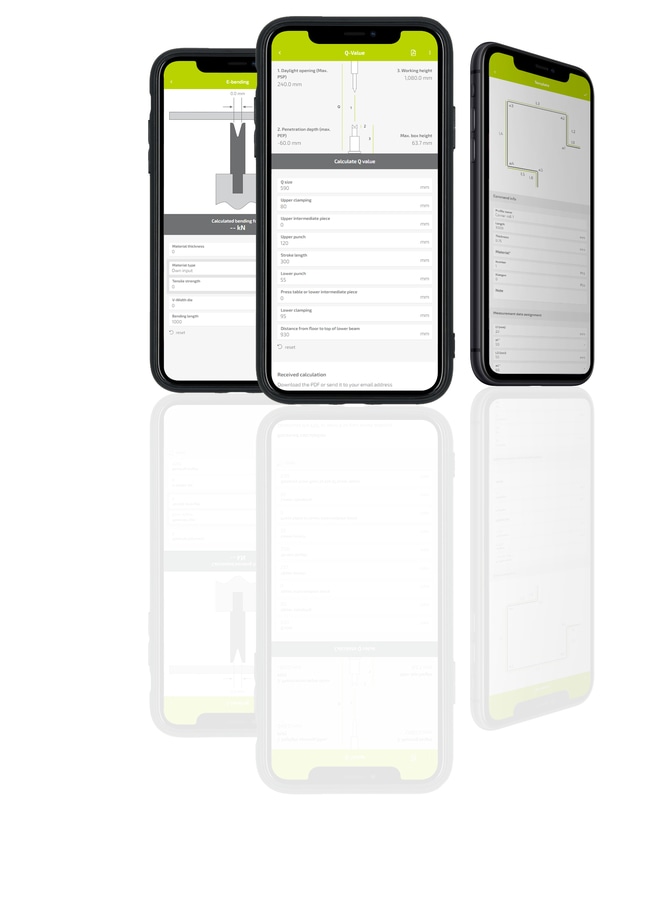 #

Product Trends
SafanDarley launches new app
Ideal to calculate your maximum cutting capacity and required pressing force
The renewed SafanDarley app is live. The new app has a modern look, works very fast and has a number of new functions, such as the option to send the results to your own email address. The app is also now available in various languages.
The existing app, the Send & Bend app and the toolbox, consisting of E-Bend, E-Cut and the Q-calculation, are integrated in 1 application, so that you have all the information together and can easily switch between the apps.
Send & Bend
The Send & Bend application is ideal for, among others, the facade cladding industry that measures profiles on site for the metal shop and other companies that often work with templates. With the app you can easily select the most common profiles and dimensions, and send directly from the construction site to the sheet metal workshop.
E-Toolbox
The SafanDarley E-Toolbox is an application for users who bend and cut sheet metal. It also provides all kinds of information about SafanDarley and its products. The toolbox is divided into 3 types of tool:
• E-Cut
This part in the app serves as a tool to calculate the maximum cutting capacity of the guillotine shears for various materials.
• E-Bending
With this tool you can easily calculate the required pressing force of various materials and V die sizes.
• Q-Calculation
The Q-Calculation application is necessary for determining the optimum opening height and tool combinations.
The app runs in the background as a standard website with the great advantage that you always work with the most recent version and do not have to update the app via the app store / play store. In addition to the handy tools, the app also keeps you up to date with the latest SafanDarley news!
Go to the app directly
app.safandarley.com