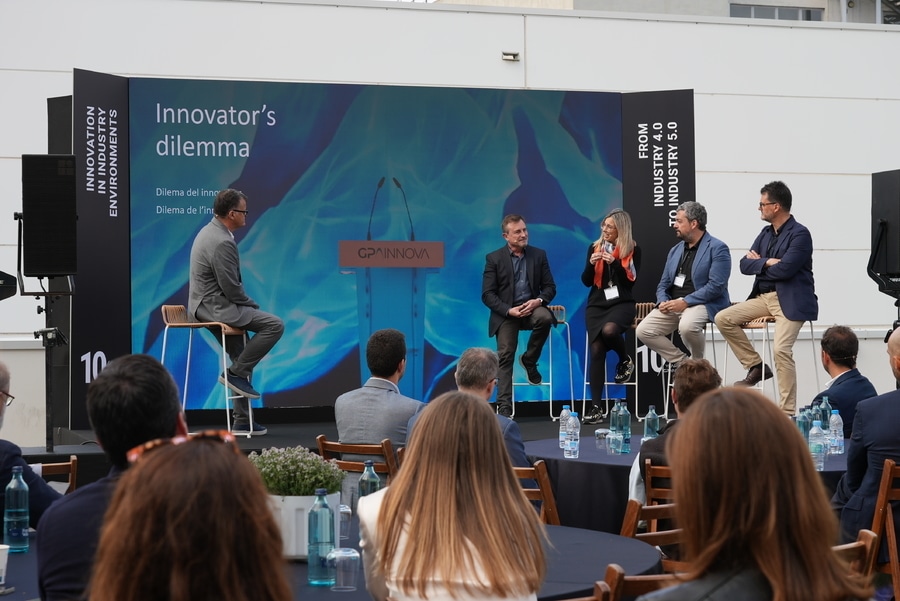 #

Trade Shows & Events
GPAINNOVA brings together 150 companies and professionals to discuss innovation on its 10th anniversary
The event was held at the group's headquarters in Barcelona.
The technological platform GPAINNOVA celebrated its 10th anniversary last Monday with a special event on innovation in the industry. This technical seminar, which took place at its headquarters in Barcelona, brought together around 150 companies and professionals.
SPEECHES BY LLUÍS JUNCÀ AND PAU SARSANEDAS
The event counted on the presence of Lluís Juncà, Director General for Innovation, Digital Economy and Entrepreneurship at Government of Catalonia. Juncà underlined the importance of projects such as GPAINNOVA in Catalonia, which is home to 2,022 startups, the highest figure on record, meaning an increase by 70% in the last five years. Concerning the business group, he highlighted its "innovative character", its size, assuring that there are few companies that achieve it, and the fact of "keeping sustainability in mind". Finally, Juncà announced that Catalonia was moving "from being a startup nation to an impact nation".
Pau Sarsanedas, GPAINNOVA's CEO and co-founder, positively assessed the company's evolution and emphasized that it has become strategic for society. "We established GPAINNOVA to change the world", said Sarsanedas, who added that the group carried out "projects in record time, such as when it created a mechanical ventilator during the pandemic" and that "the key is to have a heterogeneous and transversal team, capable of to develop highly complex and high-impact solutions".
INDUSTRY 4.0 AND 5.0 CHALLENGES
Sarsanedas gave way to a four-person debate on industrial innovation moderated by Joan Ras, SDLI partner and professor of innovation at ESCI-UPF. One of the speakers was Esteve Almirall, professor at Esade, who referred to the need to rethink business models: "Before, it was enough to exploit competitive advantage, but companies need to be increasingly disruptive, more radical, go beyond that small difference".
Anna Casals, Head of Innovation at the CELSA Group for Spain and France, stressed that the steel sector had traditionally been "little disruptive in terms of products", but considered that deep tech technologies —innovative technologies linked to science or advanced engineering —were helping organizations become more efficient.
When asked by Ras about the degree of implementation of Industry 4.0 —which encompasses artificial intelligence, the Internet of Things (IoT), nanotechnology and advanced robotics—, the experts assessed that the process was accelerating. "We have spent a lot of time thinking and rethinking what for: what is the data for? What is digitization good for?", said Diego Fernández, Gellify Iberia's CEO, who concluded that changing processes in the industry "cannot be done overnight, and it is difficult to start up".
Regarding Industry 5.0 —focused on the collaboration between machines and people to improve efficiency and productivity—, Carles Puente, co-founder of Fractus and an expert in patents, appealed to a "new sensitivity", both on the part of companies and of the new generations of professionals, whom he considers capable of innovating "with fewer barriers and insecurities".
FOUR WORKSHOPS ON ADVANCED TECHNOLOGIES
The GPAINNOVA 10-year program also offered live demonstrations of the patented DryLyte dry electropolishing technology, with which pieces for the dental, medical and industrial sectors, as well as hard metals, were treated.
The celebration was completed with four workshops run by the Secpho deep tech cluster, in which technological challenges linked to the surface treatment of metals and marine robotics were launched, and in which more than 60 technologists took part.
ABOUT GPAINNOVA
GPAINNOVA is a group of technology companies established in Barcelona in 2013, with subsidiaries in Sunrise, Hong-Kong and Shenzhen (China). It is specializing in metal surface finishing, with its brands DLyte and MURUA; marine robotics, with SEABOTS; high-performance power electronics, with POWER INNOTECH, and medical devices, with GPAMEDICAL. It has more than 180 professionals on staff, more than 60 distributors and more than 900 worldwide clients. The group closed 2022 with a record annual turnover of 26 million euros and has been chosen by the Financial Times as one of the 1,000 fastest growing European companies for the fourth consecutive year.