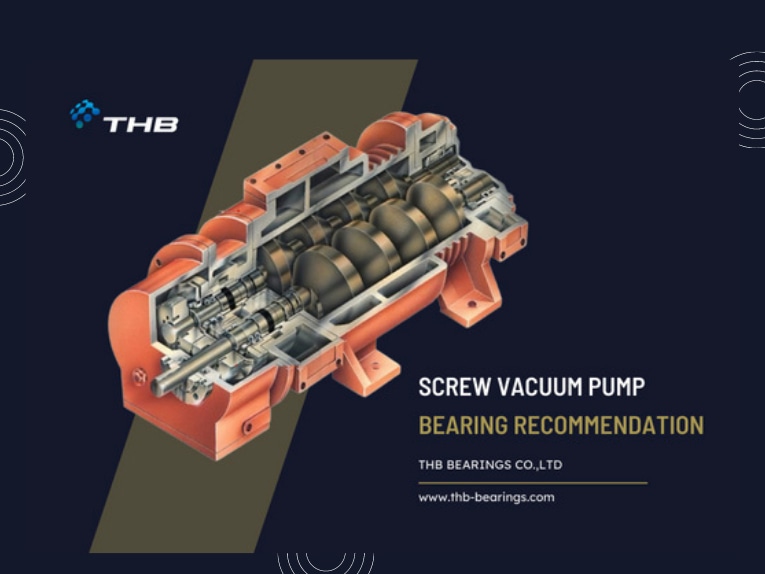 #

Product Trends
【Screw vacuum pump】 Bearings Recommended
【Screw vacuum pump】 Bearings Recommended
Screw vacuum pump is mainly used in the process that has high requirements for cleaning vacuum, especially suitable for semiconductor, chemical, biological medicine, metal processing, food processing and other fields.
Screw vacuum pump mainly includes screw rotor, bearing, pump body, seal and so on. Among them, the bearing is one of the most critical parts of screw vacuum pump, which plays a vital role in the performance of screw vacuum pump.
Recommended bearings commonly used in screw vacuum pumps
Angular contact ball bearing
Angular contact ball bearings can achieve unidirectional or bidirectional positioning through different structural configurations, which are generally used in the positioning end of shafting.
Properties of angular contact ball bearings:
Simple structure;
High limit speed;
Relatively small friction torque;
Large dynamic and static load capacity;
High rotation precision and low noise;
Can withstand both axial and radial loads
Cylindrical roller bearing
The roller of cylindrical roller bearing is in line contact with the raceway, and the radial bearing capacity is large, suitable for bearing heavy load and impact load.
Cylindrical roller bearing performance:
Low friction coefficient;
High limit speed;
Can be used as a floating end support;
Can be used as one-way positioning bearing;
The inner ring or outer ring can be separated for easy installation and disassembly.
Application of cylindrical roller bearing in screw vacuum pump
The key to ensure the normal work of bearings and the whole mechanism is the selection of matching bearings, matching tolerances and precision. THB will provide you with a full range of technical solutions suitable for your working conditions.