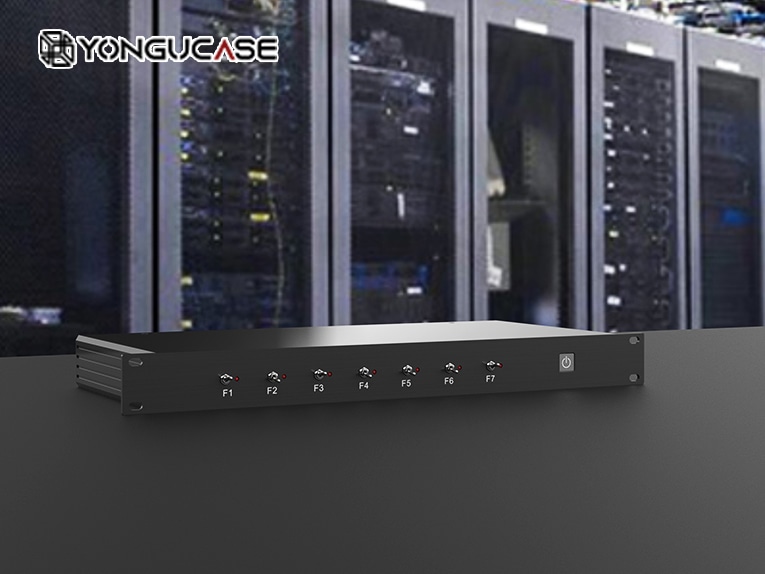 #

Industry News
What Is Standard 19 Inch Rack Size?
yongu-group
What Is Standard 19 Inch Rack Size?
One can put server equipment inside a server rack, such as board switches, rack servers, and routers. Without the outer covering of a standard tower rack, the 19-inch rack structure gives precise temperature control and makes installation, maintenance, and wire organization simpler.
19-Inch Rack Size: An Overview
The Electronic Industries Alliance (EIA) set 19 rack enclosures as the standardized width for an attachable server rack. The actual server chassis size must be lower than 17.75 inches to accommodate within the framework.
Therefore this 19-inch specification of 1u 19-inch rack technically solely applies to the rear board of the attachable modules that go into the racks.
Although it is not a mandatory rule, most companies, particularly www.yongucase.com, use servers that are 19-inch rack wide to prevent technical glitches.
What Do 19 Inches Denote In The Server Rack?
Interestingly, the size of a server rack would not be utmost crucially measured at 19 inches. Ultimately, your line must align well with enclosure nuts or screw openings on the 1u servers rack.
A server chassis must have a size of fewer than 17.75 inches to comply with the 19 inches EIA guideline. It is difficult to install the 19-inch rack mount through the rear if it's any bigger than the above. Moreover, drilled screws 18.31 inches out are required for the racks or boxes.
The only size that must be a 19-inch server rack corresponds to the front pane size, which pertains to the server's physical surface. The distance is roughly measured from the periphery of one hole drilled on the server rack to the outside margin of a spot shot adjacent to it.
Factors that impact best 19-inch server racks:
The best 19in rack mount for you depends on a few factors:
Conclusion:
A standardized structure or enclosure known as a 19-inch rack is used to install various electronic device components. The front surface of every module is 19 inches (482.6 mm) broad. The equipment's borders, that project from every side, are included in the 19-inch measurement.
It allows the modules to be secured to the rack structure with bolts or screws. Telecommunications, audiovisual production equipment, networking hardware, scientific equipment, and computer servers are a few common applications.