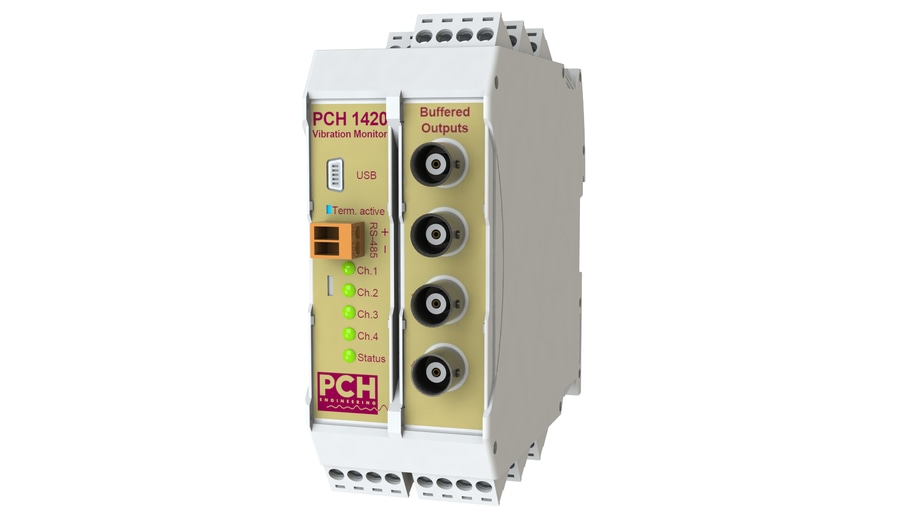 #

Product Trends
4-Ch Vibration Monitor with Buffered Outputs
Buffered outputs from both BNC and screw terminals are now available
We have updated our PCH 1420 4-channel SIL-2 vibration monitor offering.
From Spring 2021 we offer isolated and buffered outputs to each vibration input channel as well as for the speed sensor.
PCH 1420 with buffered output comes as a compact unit with 4 BNC vibration outputs on the front as well as from the screw terminals. Additionally, from screw terminals, the buffered output from the speed sensor can be used as a trigger for portable equipment in phase analysis and balancing.
While the PCH 1420 protects your assets 24/7 you can seamlessly collect raw buffered time waveform data from the accelerometers or eddy current probes connected to the PCH 1420. The data collection can be done by portable equipment and simultaneously you can hardwire the screw terminal outputs to an enhanced condition monitoring system. When the accelerometers or eddy current probes are installed in hard-to-reach areas the buffered outputs are very useful for the vibration expert.
The buffered outputs are optional to the standard PCH 1420 which already offers time waveform and FFT analysis in PCH Cloud by IIoT.