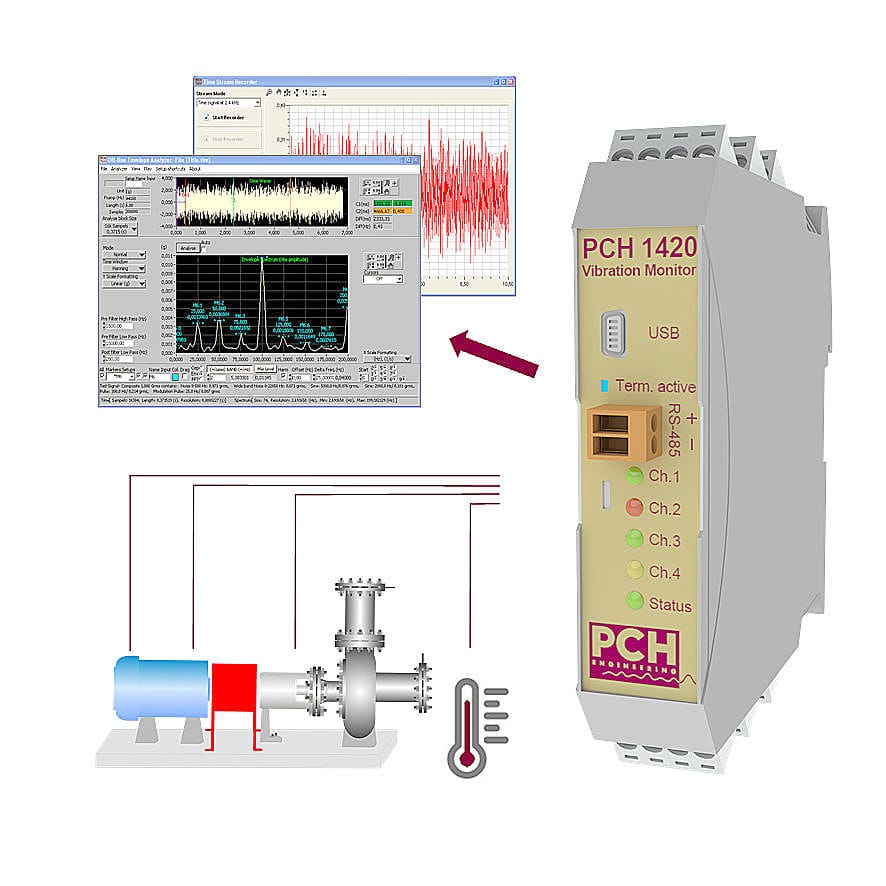 #

Product Trends
Vibration and Process Monitor PCH 1420
PCH Engineering presents a new vibration and process monitor. PCH 1420 features 4 vibration and 2 process input channels. The new monitor can be used for continuous monitoring of 4 measuring points and 2 process parameters, like speed, load or temperature, all in real-time. All input channels can be configured to give an alarm in case of high vibrations or high temperature as well as deliver 4-20 mA outputs to a control system.
Each PCH 1420 vibration channel operates within 2 simultaneously running frequency bands. The bands are configurable from 0.7 Hz up to 11.5 kHz and will typically monitor the 10-1000 Hz area (ISO 10816-3), as well as the high frequency area, 2-10 kHz, where roller bearing resonances are detected. PCH has chosen to use several bearing fault detectors simultaneously, in order to detect faults as early as possible. Thus PCH 1420 offers broadband high frequency monitoring, Envelope, Kurtosis and Crest factor for bearing fault detection. All detectors are running simultaneously and are based upon inputs from up to 4 measuring points in real-time.
In case an alarm limit is exceeded integrated alarm relays can inform the user via a connected rotor light, beeper, to a control system or by directly shutting down the machine. PCH 1420 also delivers 4-20 mA signals relatively to the vibration level, which can be used for trending in the users control system. Trending is also possible by using the free software PCH Vibration Studio on a standard PC or laptop.
The included user software PCH Vibration Studio can also be used for recording of time waveform signals (raw data) and for FFT analysis of the recorded data.
More features in PCH 1420 supports Functional Safety requirements according to ISO 13849-1, and PCH 1420 can be further used as machine protection according to API670 norms for response time of no more than 100 ms.
The monitor is ideal for OEMs as well, where individual solutions can be developed upon demand.